Mom Star Kristen Johnston Gets Candid About Addiction Problems After 3rd Rock From The Sun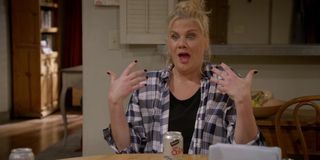 Being in the public eye is never easy, especially for anyone going through something personal that would likely just be made worse if fans found out about it. Mom star Kristen Johnston, who starred in the NBC sitcom 3rd Rock from the Sun from 1996-2001, is opening up about her time after the series came to an end, at which point she faced major problems with addiction.
Kristen Johnston was a guest on the podcast Heart of the Matter with Elizabeth Vargas, and during that sometimes heavy conversation, where she got candid about her struggles with overcoming addiction as well the difficulties that can come with loving someone with addiction. The actress, who has been sober for more than 14 years at this point, admitted that her habits reached a fever pitch a couple of years after 3rd Rock from the Sun wrapped, when her dependency turned into an abusive relationship of sorts. Johnston explained:
Starring on 3rd Rock from the Sun opposite John Lithgow, Jane Curtain, French Stewart and Joseph Gordon-Levitt very quickly turned Kristen Johnston into a household name for her comedy skills and more. Such a quick shift can definitely take its toll on someone who isn't necessarily interested in or comfortable with the social pressures that fame often comes with. And as it has gone for many actors and actresses across all mediums, such pressures can often lead to drugs and alcohol.
Holiday celebrations, particularly New Year's Eve, can definitely be tough on anyone struggling with addiction, but it can apparently also lead to a complete behavior reversal. Kristen Johnston mentioned that she spent one NYE holiday in the hospital, where all she could do was watch fireworks from her hospital bed instead of taking part in the festivities. Johnston said this about that life-changing moment:
The episode also covered Kristen Johnston's feelings of self-doubt and panic that started to take over her life after starring in 3rd Rock from the Sun. She found comfort in prescription painkillers and over the years as her addiction worsened, and her persistent substance use ultimately caused an ulcer in her stomach to burst, sending her to the hospital. That wake-up call led Johnston to find help, to 'break-up with her addiction,' and even to write the best-selling memoir, Guts: The Endless Follies and Tiny Triumphs of a Giant Disaster." Tragically, however, Johnston lost her sister Julie Herschede to an accidental overdose in 2020,
Kristen Johnston starred as second-in-command security officer Sally Solomon on NBC's 3rd Rock from the Sun for the show's six-season run from 1996-2001. She went on to take memorable roles in such projects as Sex and the City, ER, The Exes and more before landing the extremely relevant role of recovering addict Tammy Diffendorf on CBS' comedy, Mom, which airs Thursdays at 9:00 p.m. ET.
Passionate writer. Obsessed with anything and everything entertainment, specifically movies and television. Can get easily attached to fictional characters.