Why CBS' Mom Decided Not To Tackle COVID In Season 8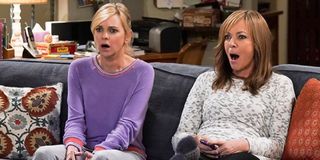 Now that most TV shows have resumed filming with restrictions and safety measures in place, viewers can expect several series — Grey's Anatomy, This is Us, The Good Doctor, and more — to tackle storylines revolving around the ongoing pandemic. However, the CBS sitcom Mom won't be following the same path, as series co-creator Gemma Baker confirmed the Allison Janney-starring series won't be incorporating a COVID arc in Season 8.
While in the midst of extra-long production hiatuses, multiple showrunners came to the conclusion that ignoring the ongoing pandemic would be irresponsible and somewhat unrealistic. This is especially true in the case of medical dramas, which often include storylines that are reflective of real life. On the other hand, Gemma Baker decided that it was in Mom's best interests to leave any and all COVID storylines out altogether. Why? Here's what she told Give Me My Remote:
I think it will probably end up being the right decision as well, since it wouldn't make sense for every show to tackle a COVID-19 storyline. Can you imagine what sci-fi and fantasy shows would look like if they made the attempt? Or animated shows? In the case of Mom, Gemma Baker's reasoning is based on both the escapism factor and the fact that Mom's narratives have existed independently from real-world events. Now, viewers will be able to watch at least one show where the pandemic isn't on everyone's minds in the way it might be in real life.
Television and movie productions have been erratic for months now due to COVID-19, which has changed the way casts and crews are able to go about filming and structuring scenes. Safety measures, restrictions, and consistent testing for COVID have also been implemented on just about every set. One might think that the behind-the-scenes changes would have altered the way Mom is handling its Season 8 storylines, but Gemma Baker says otherwise. In her words:
That's a relief! For anyone worried that the actors' onscreen interactions would be wildly different due to COVID restrictions, take comfort. Considering all of the precautions being taken, Gemma Baker's words are probably pretty soothing for Mom fans everywhere.
That said, there is one major onscreen change that the CBS sitcom will be dealing with in Season 8, and that's Christy's unexpected absence. Over the extended hiatus, Anna Faris made the decision to exit Mom after seven seasons, which was rather shocking and sent the series into uncharted territory for Season 8. However, while Faris will be missed, the show had to go on despite her abrupt departure, and will see Allison Janney's Bonnie growing closer with husband Adam, among other things.
Mom Season 8 will premiere on November 5 at 9:00 p.m. ET on CBS. For more on what to watch this fall, be sure to check out our 2020 TV premiere guide.
Your Daily Blend of Entertainment News