How NCIS Will Handle Gibbs' Absence When Season 18 Returns With Next New Episode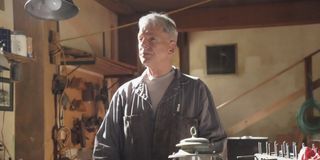 NCIS delivered a doozy of a twist in the latest episode by turning a case of a dog killer into Gibbs being suspended indefinitely from his status as a special agent due to assault, handing over his badge and gun and everything. While a suspended Gibbs raises big questions about what the team will look like without his guidance, fans don't get to find out after waiting just a week. NCIS is taking a break in releasing episodes, but CBS has fortunately already revealed when the show will be back and what to expect.
The most recent episode of NCIS aired on March 16, and that was the last new episode of the month. The show returns after a couple of Tuesdays off with a new episode on Tuesday, April 6 at 8 p.m. ET on CBS. Called "Gut Punch," the episode will send the team without Gibbs on a mission, while Gibbs has things going on as a civilian. The episode description for "Gut Punch" reveals what's in store for McGee, Torres, and Bishop:
Vance isn't sending McGee and Co. right out onto another one of their regular missions, but rather COVID compliance duty at a foreign affairs summit. A link to a previous murder case will provide a connection to their work, and whatever they do will evidently be without the oversight of Gibbs. Considering that all three of those agents committed very obvious perjury in the last episode despite Gibbs telling them to tell the truth, I'm not sure if Vance is making the best call, but they were also worried about Gibbs and not the most objective when they decided to lie for him. That presumably won't be the case for the case of the week.
All of this said, "Gut Punch" isn't going to leave out Mark Harmon's Gibbs altogether, even if he was left out of the official episode description. An image from the upcoming episode (directed by NCIS actor Rocky Carroll) reveals what he'll be up to without his badge and gun, and it seems that Gibbs will be living the civilian life to a certain extent. He's certainly dressed down compared to his usual look!
Gibbs is out and about, dressed in civvies and apparently drinking some coffee in a diner with his glasses on! Assuming his day at the diner doesn't take the same turn that Kasie and Palmer's did last season, he could have about as relaxing a day as Gibbs is capable of. I wouldn't count on it, though. Also pictured in the photo is Mark Harmon's real-life wife Pam Dawber, who is playing investigative journalist Marcie Warren.
Pam Dawber's Marcie Warren is a veteran investigative journalist known for her practicality, charisma, and wit in her work to bring justice to society, and she's slated to appear in four episodes of Season 18. When her casting was announced, it wasn't clear what would bring Marcie into the mix, but if I had to guess, I'd say that Marcie approaches Gibbs at the diner without immediately identifying herself as an investigative journalist.
It would be fun if NCIS fans some flames between them since they're married in real life, but Gibbs is coming off the end of his relationship with Jack, even if that relationship wasn't explicitly romantic until the very end. See how NCIS sends the team off on a mission while Gibbs remains suspended to meet Marcie as one of two upcoming new characters with "Gut Punch" on April 6 at 8 p.m. ET on CBS. There is no guarantee at this point that Mark Harmon intends to stay with NCIS beyond the current Season 18, so fans may want to enjoy the ride for now.
Resident of One Chicago, Bachelor Nation, and Cleveland. Has opinions about crossovers, Star Wars, and superheroes. Will not time travel.