The Falcon And The Winter Soldier Just Introduced Us To Two New Captain Americas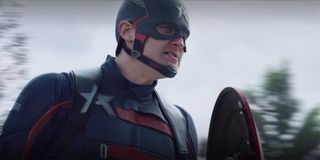 Going into this week's episode of The Falcon And The Winter Soldier, we had a pretty strong inkling that it would provide a proper introduction to John Walker, the new Captain America in the Marvel Cinematic Universe. After all, the premiere ended with that big tease where he was revealed, and there was no way that the miniseries wouldn't follow-up. Fortunately our prediction was right, as the second chapter of the Disney+ original does give us some proper background about the new character – but it also dropped the bombshell that there was another super solider operating for the United States in the middle of the 20th century after Steve Rogers disappeared, and he's someone that fans of the comics recognize as another Captain America.
Needless to say, The Falcon And The Winter Soldier has provided us with a lot of information to process – and CinemaBlend being a movie website, our go-to move is to comb through it all with an editorial. So let's dig into the second episode of the Marvel Cinematic Universe miniseries and explore what we just learned about the new characters in the canon.
The Heroic Rise Of John Walker
As I noted in my post-premiere feature last week, one of the big questions that The Falcon And The Winter Soldier left us with after the first episode was in regards to John Walker's qualifications to be the new Captain America. It's not exactly a position that should be or can be held by just anybody, and prior to his reveal in the newly designed costume he had not been previously established in the Marvel Cinematic Universe.
The second episode very much clears things up. The opening of "The Star-Spangled Man" is entirely dedicated to the Wyatt Russell character, and thanks to an interview he does on Good Morning America a whole lot of exposition is delivered on a silver platter.
Hailing from Custer's Grove, Georgia, John Walker spent his high school years as a football star before going on to attend West Point. While it's not mentioned where he has served in the military, it's noted that he has the distinction of having been awarded more Medals of Honor than any person in history (and on more than one occasion found himself leaping on a grenade to save his fellow soldiers).
What's additionally interesting about John Walker, however, is that he is apparently not a super soldier. According to a government study conducted at MIT, he is simply naturally gifted "in every measurable category," including speed, endurance and intelligence. He clearly has skills, as demonstrated during the fight on the Flag-Smasher trucks in Germany, and doesn't appear in any way hesitant to use lethal force.
In the Good Morning America interview John Walker discusses his desire to live up to the legacy of Steve Rogers as Captain America, but we're just going to have to wait and see if he actually has the ability to do that (it's probably a safe bet that he's not).
The Tragic Story Of Isaiah Bradley
While it seems like John Walker is being hailed as an exciting new hero on the world stage, what's uncovered about Isaiah Bradley in The Falcon And The Winter Soldier is intensely sobering, as it's truly one of the most tragic stories we've learned about in the Marvel Cinematic Universe. As noted earlier, he too was a super soldier who operated as an agent for the United States government, but what he got in return for his service was a horrifying nightmare.
The episode leaves some detail gaps in the story, but they can be pretty easily filled in with logic. When Steve Rogers sacrificed himself at the end of World War II, the U.S. military found itself without a super soldier in operation, and presumably that absence became more significant as the country became embroiled in the Korean War. Isaiah Bradley was chosen as a recipient of the super soldier serum, and he went to fight on behalf of his country in the Far East.
It's highlighted in The Falcon And The Winter Soldier that one memorable part of his time in country unfolded in Goyang, South Korea in 1951. Bucky Barnes was activated as a brainwashed assassin for Hydra during the conflict, and while the United States sent operations to target him, nobody ever survived. Isaiah Bradley had very different luck – or as he put it, he "whupped" The Winter Soldier's ass and managed to tear half of his vibranium arm off.
Despite his successful efforts as a soldier in the Korean War, Bradley wasn't treated as a human being when he returned home. Instead he was thrown in jail for 30 years, during which time he was subject to various medical experiments performed by both the government and Hydra. His existence was kept as a secret, as even Steve Rogers didn't know about him.
As you probably could have guessed, Isaiah Bradley is a character who originated in the pages of Marvel Comics, and it's a faithful interpretation of the hero – albeit one that changes his history a bit. He was created by Robert Morales, Kyle Baker and Axel Alonso in 2003, and was revealed in the limited series "Truth: Red, White & Black" to have been a part of super soldier experiments on African Americans following the success with Steve Rogers. Being the only survivor, Bradley took on the mantle of Captain America at the end of World War II, but this was ultimately viewed as treasonous, and he was sent to prison. His story was written to reflect the true horrors of the Tuskegee Syphilis Study, and the Marvel Cinematic Universe take does it justice with its deep, emotional introduction of Bradley in The Falcon And The Winter Soldier (and a stunning performance by Carl Lumbly).
Just as it was hard to believe that this new episode wouldn't tell us about the new Captain America, it's impossible to imagine that we won't be seeing more of both John Walker and Isaiah Bradley in upcoming chapters of this miniseries, and we can't wait to hear more about their individual stories. We'll have to wait and see how much we get from the next chapter, but either way you can expect to see The Falcon And The Winter Soldier Episode 3 on Disney+ next Friday, April 2, at midnight PST/3am EST.
Your Daily Blend of Entertainment News
Assistant Managing Editor
NJ native who calls LA home and lives in a Dreamatorium. A decade-plus CinemaBlend veteran who is endlessly enthusiastic about the career he's dreamt of since seventh grade.