HBO Max Just Paid George R.R. Martin A Lot Of Moolah To Develop More TV Projects, But What About Winds Of Winter?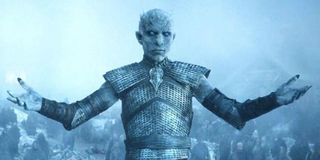 I still don't understand how there are still people who have never read the A Song of Ice and Fire series or seen the HBO series adaptation Game of Thrones, but even if you somehow fall into that category, there's still a good chance you know about the whole "George R. R. Martin waits seemingly ages to release a book" situation. In fact, it's now been a decade since the release of the most recent novel in the series. That's not to say, however, that there aren't developments in the Game of Thrones universe. Recently, there have been a ton of updates for both the next book and future HBO and HBO Max projects relating to the series and, now, HBO has shelled out a ton of cash for Martin to continue developing new streaming content, but what about the long awaited Winds of Winter novel?
It was recently announced that George R. R. Martin would be teaming back up with HBO for a project that was a different kind of science fiction tale, unrelated to A Song of Ice and Fire and Game of Thrones. According to Deadline, the new eight-figure (yeah, that's tens of millions) deal with HBO and HBO Max will put Martin back on the continents of Westeros and Essos to produce a number of prequel projects. We already knew Martin would have a hand in the prequel House of the Dragon, but it looks like we'll be getting even more branches of Game of Thrones in the coming years.
If you're concerned about the future of new A Song of Ice and Fire novels after this news, you may have a right to be. The time in between novels has steadily increased as each installment has dropped, and there are two more in the series yet to be released. Although George R. R. Martin gave us a pretty promising update on Winds of Winter not too long ago, the heavy increase in projects are sure to affect the novels, if not Winds of Winter then the last in the series A Dream of Spring.
George R.R. Martin has named the Game of Thrones series and related projects as the reasons for the lengthy wait for Winds of Winter. With that in mind, it is pretty worrisome to hear about the slew of projects that have now been put on Martin's plate because, if he is writing for HBO, he's likely not working on his novels.
Of course, it's really hard to blame George R. R. Martin. Put yourself in his shoes - if a major streaming platform were offering you more money than the One True King has, all to make really cool stories, what would you do? Yeah, you'd take the deal in a heartbeat - especially when that platform has already done justice to your existing work.
We may have to wait a little (or possibly a lot) longer for new novels, but it's far from all bad. It sounds like fans have a lot to look forward to, actually. Plus, we already know George R. R. Martin is tired of fans complaining, so he may just release Winds of Winter to shut us all up. Here's hoping!
Your Daily Blend of Entertainment News
Constantly thinking about books, coffee, and the existential dread I feel from Bo Burnham's Inside. While writing I'm also raising a chaotic toddler, who may or may not have picked up personality traits from watching one too many episodes of Trailer Park Boys.