Who Is The Masked Singer's Crab? Here Are Our Best Guesses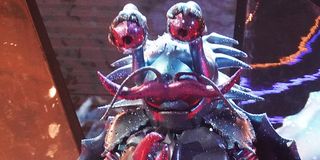 The Masked Singer has finally merged Group A and B, and now that there are no more wild cards to mix up the competition, viewers have all they need to pin down the identities of every masked competitor. This includes The Crab, who emerged as a wild card and made a splash with some unexpected musical chops in the competition.
The Crab may not be as much of a musical icon as Sebastian the Crab, but he can definitely hold a note better than a good number of contestants we've seen in the past. Given that, and a few key clues revealed about him, we're about as confident as Ken Jeong is with every guess he makes that we know exactly who this is.
The Clues For The Crab
The Crab is described as a "big dude" by the panel, and his clue packages have been a bit more cryptic than past competitors. With that said, he has referenced past contestants like The Bee (Gladys Knight) and The Butterfly (Michelle Williams). It would appear he has some ties to those two, which could imply some sort of fame as a professional recording artist. We've also seen clues that tease they're into cooking and an allusion to the Crab being referred to as a king.
Finally, we witnessed that The Crab had to leave The Masked Singer stage following his performance of Rick James' "Give It To Me Baby" to undress and take a break. Based on that, I would speculate The Crab is an older competitor, as those costumes can get pretty heavy. With that said, let's dive in and go through the popular guesses of who could be under the mask.
Is The Blue Shell A Clue For Martin Lawrence?
56-year-old actor Martin Lawrence hasn't been a huge fixture in Hollywood in recent years, but the movie Bad Boys For Life recently put him back in the spotlight. I could see a world in which Lawrence was offered a chance to be on The Masked Singer, and The Crab's overall blue color scheme could be a not-so-subtle nod to his movie Blue Streak. Plus, Lawrence has had some dark times like The Crab, one famously being when he was arrested after taking to the streets and threatening people with a gun. That may be a bit dark for The Masked Singer to make a clue out of, but they've surprised me at times with what they've made a clue.
Is It The Crab's Prerogative To Be Bobby Brown?
He got his start in New Edition, but Bobby Brown has since become a name of his own thanks to his career as a solo musician, a reality television star, and his marriage to Whitney Houston. Bobby Brown is a solid singer, though at the age of 52, he hasn't exactly been a musician still dominating the charts. He's definitely a popular face and one that could get by on his singing all the same on The Masked Singer. I'd also say that, compared to some of the other guesses that have been suggested, he could be the most available celebrity to take part in the show, but that's just an assumption on my end.
Will Lenny Kravitz Fly Away After Being Unmasked As The Crab?
Lenny Kravitz is a known rocker, a wonderful singer, and he's got some acting chops. He'd be a great fit for The Masked Singer, though is that to say that he's masquerading as The Crab? It's hard to find a clue that fits in with what's been said about The Crab so far that matches Kravitz. Literally, the only thing I can think that supports this theory is that the entire casting could be a setup for Ken Jeong to say "Lenny Crabitz" upon his reveal. Honestly, that would make it all worth it, though I'll be honest right now and say that this guess feels like a stretch.
Who We Think The Crab Is
Everybody's talking all this stuff about Crab. Why can't they just let him live? I don't think there's any mistaking that The Masked Singer's Crab sounds almost exactly like Bobby Brown, and the voice is usually the easiest way to identify a contestant on the show. The performance that solidified it for me was when he performed Rick James' "Give It To Me Baby," which really put me on his path and made all the clues really come together.
For example, the clues that allude to Crab being a cook are a reference to Bobby Brown's cooking line. Brown is someone who prides himself on cooking, and in recent years has prioritized developing recipes, sauces, and rubs that promote a healthier lifestyle by reducing sodium, sugar, and other preservatives that can be harmful to the human body. Obviously, that all wasn't laid out in the clue packages, but I guess that bowl of mac and cheese we saw Crab making was far healthier than I would've imagined.
The Masked Singer had Crab refer to himself as "King Crab" in one of his clue packages, which again is a dead giveaway that this is Bobby Brown underneath the mask. Brown's nickname is "The King of the Stage," and he had a song back in the day to prove it called "King of Stage." These aren't the types of clues that can be easily tied to any of the other suggested people who have been brought up for The Crab, so I would be very surprised if he's eliminated and somebody else is revealed to be The Crab.
I've been wrong before though, so feel free to share your thoughts in our poll below on whether or not you believe Bobby Brown is The Crab on The Masked Singer. Those looking to guess while watching the show will need to tune into The Masked Singer on Fox, Wednesdays at 8:00 p.m. ET. Season 5 has been one of the series' best yet, though I still have to question what the point of Cluedle-Doo is and who the hell is under that mask.
This poll is no longer available.
Your Daily Blend of Entertainment News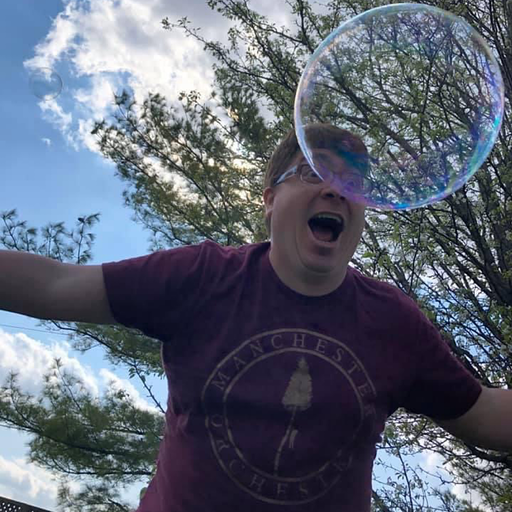 Mick contains multitudes and balances his time reporting on big happenings in the world of Star Trek, the WWE, reality television, and other sci-fi shows.