Lenny Kravitz Wishes Jason Momoa Happy Birthday In Touching Post And Fans Can't Get Enough Of Their Big, Happy Family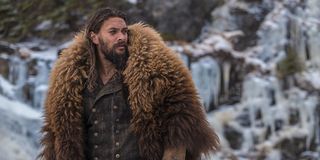 Some family situations can be rocky, especially when a step-parent is involved. That doesn't seem to be the case for Lenny Kravitz and Jason Momoa, though. It looks like they've been able to get along since Jason Momoa married Lisa Bonet, Lenny Kravitz's ex-wife. Recently Lenny Kravitz wished Jason Momoa a happy birthday on social media and fans are loving it. Check it out:
It doesn't have to be said that Lenny Kravitz and Jason Momoa are two huge Hollywood stars and could easily let their egos get the best of them. So it's touching, and plain awesome, to see Lenny Kravitz's birthday message like this. And one fan on Lenny Kravitz's social media seems to agree:
Lisa Bonet, known for her role as Denise Huxtable on The Cosby Show, married Lenny Kravitz in 1987. They had daughter Zoe Kravitz a year later in 1988. Then, several years after that, Lenny Kravitz and Lisa Bonet filed for divorce in 1993. Still, there's clearly a lot of love in the family unit.
Lisa Bonet and Aquaman actor Jason Momoa started dating in 2005. They reportedly met through mutual friends and Jason Momoa asked her out to dinner and the rest was history. For a while, their relationship was so tight that they spoke as if they were already married, but they didn't officially tie the knot until 2017. Needless to say, fans love the maturity Lenny Kravitz and Jason Momoa is showing here:
Lenny Kravitz and Jason Momoa both share parental responsibilities. Jason Momoa is after all, 31-year-old Zoe Kravitz's stepfather. On top of that, he and Lisa Bonet have two younger children of their own, 10-year-old Lola and 8-year-old Nakoa-wolf. Needless to say, these kinds of dynamics can always be full of emotion and difficulty, like one fan points out:
Zoe Kravitz, known for her work in X-Men: First Class, Divergent, and Mad Max: Fury Road, will be joining her stepfather in the world of superheroes. It was announced recently that she would be playing Catwoman in Matt Reeves' The Batman. Of course, Jason Momoa only had kind words for her, telling her "Your life's going to change" and later said, "she's beautiful, she's talented, she's going to kill it."
Clearly, Lenny Kravitz and Jason Momoa believe in being one family and supporting each other. This fan thinks it's quite the inspiration:
With the kind of support they seem to give each other, maybe it's time to pair these two together in a buddy cop movie and see the magic happen. For more movie news, be sure to tune in to CinemaBlend.
Your Daily Blend of Entertainment News
Your Daily Blend of Entertainment News
Thank you for signing up to CinemaBlend. You will receive a verification email shortly.
There was a problem. Please refresh the page and try again.