Does Falcon And Winter Soldier Theory Prove That Sharon Is A Villain? Kevin Smith Seems Interested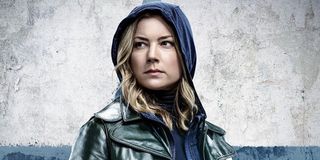 CinemaBlend participates in affiliate programs with various companies. We may earn a commission when you click on or make purchases via links.
Spoilers for the latest episode of The Falcon and the Winter Soldier -- "Truth" -- lie ahead.
Marvel's The Falcon and the Winter Soldier has been a relatively straightforward story and hasn't spurred quite as many fan theories as its predecessor, WandaVision. However, there are a couple of plot threads that are still keeping fans wondering. The biggest arguably revolves around the identity of the mysterious Power Broker. Many have been theorizing that Emily VanCamp's Sharon Carter is actually the frequently-mentioned figure. Ahead of the finale, this indeed seems to be the case, and a new theory has actually captured the attention of fans and Kevin Smith.
The most recent episode of The Falcon and the Winter Soldier saw Sharon Carter make a call to mercenary Georges Batroc and offer him a new job. While it's a pretty standard scene on the surface, some fans believe that Carter's phone may indeed reveal that she's the Power Broker.
Fans noticed that Sharon Carter is not seen using an iPhone, which is a pretty common device for film and TV characters. Now, while this may not seem like a big deal to some, this is significant due to the reported rule Apple has in regard to the cellular device. Knives Out director Rian Johnson revealed that Apple prohibits villains from using their phones on camera. With this, many now believe that Carter's non-use of an iPhone confirms she's the Power Broker. The theory has been picking up momentum, with Kevin Smith even making note of it while talking with Marc Bernardin on their Batman Beyond podcast:
The theory may sound a bit weird, but it's definitely not that far-fetched when you consider how often iPhones are used on TV and film. Kevin Smith's bought into theories before, some wilder than others, but some of them have held some merit.
Phone theory aside, it seems all too likely that Sharon Carter will be revealed as The Falcon and the Winter Soldier's Power Broker during the finale. Not only has Sharon become a lot shadier during her time on Madripoor, but she's also become well-connected. The fact that she has the pull to recruit someone like Batroc shows that she has the influence that's expected from someone like the Power Broker. You can check out the Marvel show for yourself by streaming it on Disney+, which you can sign up for using this link (opens in new tab).
If all goes as expected, Sharon Carter will officially gain the title of Power Broker, though that doesn't necessarily mean she's aiming to harm Sam Wilson or Bucky Barnes. There's no telling how things might play out, but it's certainly clear that viewers, including Kevin Smith, are in for an explosive ending.
The Falcon and the Winter Soldier finale drops Friday, April 23 at 3 a.m. ET/12 a.m. PST on Disney+.
Covering superheroes, sci-fi, comedy, and almost anything else in film and TV. I eat more pizza than the Teenage Mutant Ninja Turtles.
Your Daily Blend of Entertainment News
Thank you for signing up to CinemaBlend. You will receive a verification email shortly.
There was a problem. Please refresh the page and try again.