One Month Later, Milo Ventimiglia Hasn't Forgotten Us Thirsting Over His Short Shorts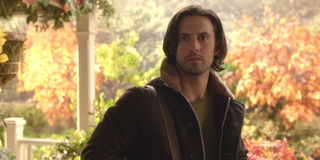 If I look as good at 43 as Milo Ventimiglia's left leg, I'll be a happy camper. About a month ago the Gilmore Girls vet and This Is Us star left the gym wearing some very short shorts that got pretty much everybody feeling a little parched. Somebody tell Rory she really messed up in letting those unforgettable legs walk away! It looks like Ventimiglia hasn't forgotten everyone thirsting over them either, because he just posted a cheeky reference on social media.
While he doesn't do much on social media, it does look like Milo Ventimiglia has been paying attention to us paying attention to his short shorts. His Instagram is kind of an arty account, and among the pictures of him holding fruit we can now see one of the famous short shorts. Unfortunately for us, he's not wearing them, but you can check out the post below anyway:
With a caption like "Ride em high kids" how could you not love these shorts even more? It's clear that Milo Ventimiglia is playing into the fun his so-called thirst trap initiated a month ago. Yeah, it might just be a pair of shorts, but it's THE pair of shorts everyone was obsessing over. Okay, maybe not everyone, but it's clear Milo Ventimiglia still has a very specific fan base and it's nice to see that those who grew up drooling over him as Jess in Gilmore Girls and then Heroes can still safely do so. And there's always the This Is Us crowd!
The reference to his viral gym visit last month was not lost on his fans, and the comment section is definitely full of people loving that Milo Ventimiglia is playing along. One commenter has maybe an even better caption idea in the form of "The higher the shorts, the closer to God...or something like that". Another fan recognizes the shorts' fame by commenting "the shorts heard around the world".
These days, Milo Ventimiglia's shorts may even be more famous than he is! It's been a long time since he was a regular on Gilmore Girls, which is the series that really bumped his career in gear and taught him a lot. He has been in a number of series since, and even has directed and produced, but is currently seeing fame in his popular series This Is Us.
This Is Us is currently in its fifth season and airs new episodes on NBC on Tuesdays at 9 p.m. ET. Even though his character is technically dead, you can catch Milo Ventimiglia and his buff thighs there, but you may not be able to get a great look at them as he won't be wearing his now-famous shorts. That's okay though, because the heartfelt story is so worth the thigh-less view... not that we would say no to a change in wardrobe for the show.
Your Daily Blend of Entertainment News
Thank you for signing up to CinemaBlend. You will receive a verification email shortly.
There was a problem. Please refresh the page and try again.