Sylvester Stallone Reveals What Rocky And Adrian Would've Looked Like In His Proposed TV Prequel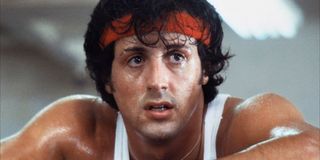 Sylvester Stallone has been a staple within the entertainment industry for some time now, having had in a number of iconic franchises. However, the one that likely still stands above the others is Rocky, which has seen Stallone play the titular boxer on a number of occasions. So it's no surprise that the veteran actor, director and producer has still been thinking up ways to keep the character and franchise alive. Most recently, Stallone revealed that he's been trying to develop a Rocky prequel TV show, and he's now given us a better idea of the look he envisioned for the show's Rocky and Adrian.
The proposed Rocky prequel would focus on the formative years of the eponymous character, as he grows up in the city of Philadelphia. Sylvester Stallone previously stated that his intention was to have other classic characters from the franchise appear as well. However, in his recent Instagram post, the actor says that the series is unlikely to happen due to "certain complications." But that didn't stop him sharing a screenshot of how he wanted young Rocky and Adrian to look. Check out the FaceApp-generated images of the characters down below:
If you're like me, then you may not know how to feel about these photos of Rocky and Adrian. Yes, these definitely appear to be younger versions of the characters we first met in the original 1976 film. But these particular shots sort of fall into "uncanny valley" territory. Ultimately, the characters realistically wouldn't have looked like this on the show (barring any kind of spectacular visual effects) but, if anything, this tells us that Sylvester Stallone was looking to hire young actors who closely resembled both him and former co-star Talia Shire.
Sylvester Stallone had only shared a few details on the show but, from what he revealed, it looks like he wanted to incorporate a number of elements into the show. The notes he previously shared on social media indicated that he wanted Rocky's early life to intersect with some notable periods in American history. Stallone also mentioned his hope that the show would go to a streaming service, where it would theoretically air for a few seasons.
A Rocky prequel series would be tricky to pull off, but it honestly wouldn't be a bad idea. If done right, Stallone could add more layers to Rocky and expand on the rich lore that's already been established.
Despite the fact that the show doesn't seem to be happening, Sylvester Stallone has been working in the world of Rocky Balboa in other ways. His most recent venture has been a director's cut of Rocky IV, which he's been teasing for a while now.
The idea of a Rocky prequel TV series may draw mixed responses, though it's still something to think about. There's no telling whether Sylvester Stallone (or someone else) will ever revisit the idea but, hey, crazier things have happened, right?
Your Daily Blend of Entertainment News
Covering superheroes, sci-fi, comedy, and almost anything else in film and TV. I eat more pizza than the Teenage Mutant Ninja Turtles.
Your Daily Blend of Entertainment News
Thank you for signing up to CinemaBlend. You will receive a verification email shortly.
There was a problem. Please refresh the page and try again.