A Rocky Prequel TV Show From Sylvester Stallone? Oh Hell Yeah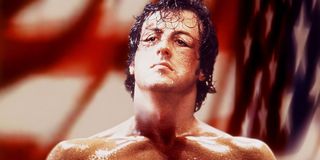 The Rocky franchise has been a cultural touchstone since the original movie hit theaters back in 1976 and skyrocketed Sylvester Stallone to true stardom. The franchise experienced a hiatus from the 2000s to the early 2010s, but it came back swinging when Stallone and Ryan Coogler teamed up for Creed. This new era in the franchise seems to have reinvigorated not only the series but Stallone's passion for it. And now it seems the star is hard at working trying to develop a Rocky prequel series. So… can we please have this immediately?!
Sylvester Stallone never hesitates to share any Rocky-related content on social media and, just recently, he posted a screenshot of a treatment he's been working on for a prequel TV show. As Stallone explains it, the series would focus on a younger Balboa and other characters (apparently a younger Adrian and Paulie Penino) and get to the heart of who they are by the time we see them in that first movie.
It also sounds like Sylvester Stallone already has a plan in mind for where and how the series can be presented. He says he's crafting the show for a streaming service and that, ideally, he wants it to have a few 10-episode seasons. You can check out the actor, writer, director and producer's original Instagram post down below:
So far, it looks like a lot of thought and effort has been put into the idea of a "Young Rocky" show, though it's nice to see that Stallone is taking occasional breaks and enjoying himself. The actor has since added another post that teases more of the writing process. It appears to be early days for the project, as Stallone has not confirmed if he's officially pitched it to a streamer. However, it could very well draw some interest.
A Rocky prequel series would allow the franchise to expand even further, and it could also fill in some crucial gaps in its history. Through the films, audiences have only learned bits and pieces of Rocky's early life and what led to his decision to become a loan shark collector. So it would be great to get answers to certain questions. And aside from the principal three characters, the show can also feature younger versions of characters like Balboa's trainer and mentor Mickey Goldman and even opponent-turned-friend Spider Rico.
Aside from developing this potential show, Sylvester Stallone has also been working on another Rocky-related project. He's been working away on a director's cut of Rocky IV, and he's been more than ecstatic about sharing updates with fans. Meanwhile, the Creed franchise is also moving forward with Michael B. Jordan set to star in and direct the third installment.
There's no telling when we may get any more updates on this Rocky project or if it'll even get picked up by a streaming service. Still, it's an exciting prospect to think about and, if anyone, can make it happen it's Sylvester Stallone.
Covering superheroes, sci-fi, comedy, and almost anything else in film and TV. I eat more pizza than the Teenage Mutant Ninja Turtles.
Your Daily Blend of Entertainment News
Thank you for signing up to CinemaBlend. You will receive a verification email shortly.
There was a problem. Please refresh the page and try again.