After Sylvester Stallone Teases The Rocky IV Director Cut, A New Fan Poster Brings It Back To Life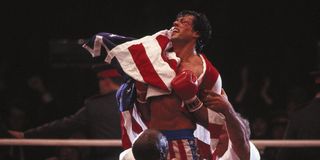 After 35 years, Sylvester Stallone is revisiting the fan-favorite Rocky IV, hopping into the editor's chair and reworking the whole thing from top to bottom for a special director's cut. And it looks like some Rocky fans are on board, showing their support with a new fan poster that brings the movie back to life. Let's break it all down.
Sylvester Stallone notably starred, wrote, and directed the original Rocky IV. To celebrate the film's 35th anniversary, Sylvester Stallone decided to release a new cut of the movie, calling it "soulful." And in support, one fan posted a new poster for the project on their social media. Take a look:
This looks incredible and I like the little touch of calling it the "Sly Cut." Though Rocky IV hasn't historically received the greatest reviews, it still has some of Rocky's most memorable scenes and a knockout villain in Dolph Lundgren's Ivan Drago. Plus, we likely wouldn't have Creed without the events of Rocky IV. Sylvester Stallone is seemingly hard at work crafting his new cut of the film, he's been actively taking time to share some of the process with his fans on social media. In one post, he shared a clip of him directing and acting alongside Dolph Lundgren.
Sylvester Stallone also teased that he's finding "little moments" that make piecing Rocky IV like "a giant puzzle" while posting another outtake of Dolph Lundgren laughing and then getting into character and saying the phrase, "I cannot be defeated." These teases have helped build anticipation for the movie's alternate cut, although it's unclear when the movie will arrive.
While some fans might be eager for this new cut, Sylvester Stallone recently announced a big change to the movie that has some fans honestly divided. Reportedly, SICO, the feminized robot that was given to Paulie (Burt Young) for his birthday, will be cut from the movie. Sylvester Stallone said simply, "I don't like the robot anymore."
SICO was defintiely a strange addition to Rocky IV, since it's supposed to be a serious boxing movie and not a TV sitcom that uses gimmicky robots for laughs. But serious boxing movie or not, some fans still have nostalgia for the old robot and might not be happy to see it disappear from this new director's cut. That's show business.
More importantly, though, is how many changes Sylvester Stallone will make to the final fight between Rocky and Ivan Drago. That fight was reportedly a script unto itself with everything planned down to the smallest details. So it'll be interesting if he decides to make changes in the edit to improve on it or if he leaves it relatively alone. Either way, stay tuned to CinemaBlend as this story continues to develop.
Your Daily Blend of Entertainment News