How Loki's Tom Hiddleston And The Filmmakers Approached That Big Death Scene In The Premiere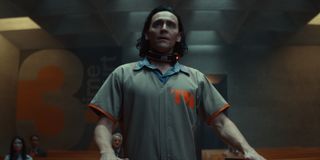 SPOILER WARNING: The following article features major spoilers for the first episode of Loki. If you have not yet seen the film, read on at your own risk!
First watching the opening of Avengers: Infinity War back in spring 2018, Loki fans everywhere were delivered a devastating shock. The "prologue" of the blockbuster sees the lovable God of Mischief reunite with Thanos for the first time since the events of The Avengers, and the end result is that the green-loving Asgardian gets his neck snapped by the Mad Titan. It was a rather horrific thing for audiences to see after years of getting attached to the character and appreciating his emotional growth.
Fast forward to tonight's premiere episode of the new Disney+ series Loki, and all of that pain has been brought back – albeit with a new angle: rather than it just being fans saddened to watch the villain's death, Loki himself is now a part of that audience, as being in the Time Variance Authority gives the character the opportunity to witness the very real way that his story is supposed to end.
The moment makes for what is the best scene in the first chapter of Loki, and being so impressed by it, I felt compelled to ask star Tom Hiddleston, director Kate Herron, and head writer Michael Waldron all about it when I interviewed the three of them individually this past week during a virtual press day for the new show.
How Tom Hiddleston Prepared For Loki To Witness His Own Death
Clearly there is a part of being an actor that heavily depends on using one's imagination, but where does one even begin when it comes to the idea of witnessing one's own death? That's a circumstance that isn't exactly naturally occurring in our reality, and thus created an interesting challenge for Tom Hiddleston to take on. But it was definitely one that excited the performer as he dug deeper into the material while preparing for his solo Disney+ series.
As he explained in the interview, Hiddleston was at first excited by the prospect of getting to play the moment where Loki witnesses his own death – but that then opened the door to some big questions. Said the actor,
A "cause for concern" indeed. One of Loki's most famous lines in the Marvel Cinematic Universe (and one that is repeated multiple times in the episode), is from his very first scene in The Avengers when he introduces himself to a confused Nick Fury, saying, "I am Loki of Asgard, and I am burdened with glorious purpose." As it turns out, that purpose isn't actually so glorious, and that's something that very much sinks in when the God of Mischief watches himself choke to death with an Infinity Gauntlet around his neck.
How Loki Director Kate Herron Filmed Loki Watching His Own Death
Preparing to shoot the scene, Kate Herron was fully cognizant of the significance of the moment and gave it the attention that it deserved. According to the filmmaker, there was an attempt at modifying the mood on set to create the space that Tom Hiddleston needed to have, and she also didn't make him entirely depend on emotions generated from memory, as she also cued up all of the scenes Loki watches on the TVA computer so that the actor could watch them just like his character. Said the filmmaker,
After years of believing that he is meant to be the King of Asgard, the ruler of Midgard (a.k.a. Earth), and perhaps even the emperor of space, Loki understands that some of his greatest achievements are getting his own mother killed, and then dying as a pawn in Thanos' universe-changing power grab. It's a devastating moment, and Kate Herron is extremely proud of how it all comes together – both with Tom Hiddleston's performance, and also the presentation and style that comes as an extension of the way that the TVA modestly handles its business. Said Herron,
How Loki Will Be Changed By Witnessing His Own Death, According To Tom Hiddleston And Head Writer Michael Waldron
The God of Mischief watching his own death is the big climax in the first episode of Loki and a perfect cap to the events that play out in the chapter – but, of course, this is just the beginning. As a "variant," the character is now forging a new path not already mapped out by the TVA, and that trajectory is set to be chronicled across the next five weeks on Disney+. So now the big question is, how can we expect the massive revelation to change the series' protagonist as an individual?
According to Michael Waldron, it is a key turning point for Loki, and an essential moment for his self-evaluation. After literal centuries of having a particular vision of himself, that image now has to totally change, and that's something that is going to force an evolution in the character going forward… obviously without betraying his true nature. Said Waldron,
It's a moment of tremendous significance for the character that Tom Hiddleston wholly recognizes. The actor furthermore noted that while getting to watching how you personally die is by itself an extraordinary experience, it's also an emotional one everyone can understand via the ways in which we live our lives and think of progress. He explained,
So now that he has a brand new lease on life (at least temporarily), what's next for Loki? We know that he'll be on a mission with Owen Wilson's Mobius to hunt down another variant version of himself, but how all that will go down is all currently a mystery. The next episode of the Marvel Disney+ original arrives on the streaming service on June 16 at midnight PST/3am EST, and we'll have plenty more coverage of the series coming your way here on CinemaBlend.
Your Daily Blend of Entertainment News
Assistant Managing Editor
NJ native who calls LA home and lives in a Dreamatorium. A decade-plus CinemaBlend veteran who is endlessly enthusiastic about the career he's dreamt of since seventh grade.
Your Daily Blend of Entertainment News
Thank you for signing up to CinemaBlend. You will receive a verification email shortly.
There was a problem. Please refresh the page and try again.