Upcoming Tom Hiddleston Movies And TV Shows: What's Ahead For The Loki Star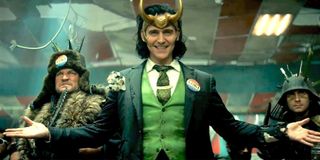 Watch out! Tom Hiddleston has quite a big summer in store. The marvelous Marvel actor has often taken the spotlight through his conniving turn as the God of Mischief in various Marvel Cinematic Universe blockbusters. But now, he'll finally get a star vehicle of his own with Loki, which will premiere on Disney+ in a matter of weeks. Likewise, the talented British performer has a couple more Marvel commitments (and non-Marvel commitments) lined up in the future, including a possible cameo in Thor: Love and Thunder. How likely is it to happen? That's what discuss in a bit — among other things.
With that said, if you love Tom Hiddleston, here's what's coming up next for the Thor actor. Also, while it's far from official, there are several corners of the internet that believe that Hiddleston will eventually take over the reins as 007. Nothing close to official has been revealed in Hiddleston's favor — for now — but it's still worth noting.
Loki - June 9th, 2021 (Completed)
It was simply a matter of time before we were reacquainted with the Marvel miscreant. That's right; the God of Mischief is back for even more misdeeds and misbehavior with Disney+'s Loki, which follows the meddling, ill-behaving title character — albeit through an alternate timeline — in his own starring vehicle. Also starring Owen Wilson, Gugu Mbatha-Raw, and Wunmi Mosaku, this MCU Phase 4 streaming series will only consist of six episodes. However, unlike other Marvel mini-series like WandaVision and The Falcon and the Winter Soldier, the show will reportedly continue for a second season.
Created by Michael Waldron (the upcoming Heels), who also scripted next year's Doctor Strange and the Multiverse of Madness, and directed by Kate Herron (Sex Education), Loki is the latest attempt to laser focus on a supporting character in the ever-expanding MCU, but this one has the potential to be one of the biggest TV additions to the popular comic franchise. And it's coming soon! Loki premieres on Disney+ on June 9th. If you love Tom Hiddleston's mischievous take on the naughty Norse nuisance, you're in luck.
What If...? - August 2021 (Post-Production)
Based on the inquisitive comic book series of the same name, Disney+'s What If ...? is an animated anthology series that wonders what would happen if things went down a little (or a lot) differently in the always eventful Marvel Cinematic Universe. Details related to this streaming show remain limited otherwise, but we do know one thing: it has one hell of an ensemble. Led by Jeffrey Wright, What If ...? features voice-only cameos from Mark Ruffalo, Hayley Atwell, Natalie Portman, Jeremy Renner, Paul Rudd, Taika Waititi, Chris Hemsworth, Samuel L. Jackson, Michael B. Jordan, Karen Gillan, Josh Brolin, Jeff Goldblum, Frank Grillo, Michael Rooker, Dominic Cooper, Sean Gunn, Chadwick Boseman, Sebastian Stan, and Tom Hiddleston, to name only a select few.
That's quite an extensive cast sheet. But we shouldn't be surprised, considering how many stars populate the Marvel Cinematic Universe. Make no mistake about it, though. With two streaming shows on the horizon, this season is the summer of Loki. And we don't have long to wait to see this new cartoon series. It's expected to debut in August.
The Essex Serpent - TBA (Filming)
Even outside of his commitments to the Marvel Cinematic Universe (or, should we say, its multiplying multi-dimensions), Tom Hiddleston will stick with TV for the foreseeable future. Case-in-point, Hiddleston recently signed on to star in The Essex Serpent, Apple TV+'s upcoming limited series based on Sarah Perry's hit 2016 novel of the same name.
Starring Claire Danes in the lead role, The Essex Serpent will come from director Clio Barnard (The Selfish Giant) and it'll also feature the supporting talents of Frank Dillane, Hayley Squires, Clemence Poesy, Jamael Westman, and Tom Hiddleston. Regarding the latter star, Hiddleston will play Will Ransome, the local vicar who forms some sort of correspondence with our female protagonist. As for the plot itself, the Victorian-set story follows a woman who relishes her recent freedom from an abusive husband by traveling from London to a small Essex village. From there, she becomes intrigued by the idea that the quaint Essex locale might be haunted by a mythical sea serpent. Or, at least, that's what the book is about. One imagines the show will follow a similar story.
As we've seen in Crimson Peak, Tom Hiddleston knows how to play into this civil era. Likewise, as we've seen in the similarly undervalued Only Lovers Left Alive, Hiddleston can play into mythological stories with brooding undertones well, which could help him settle into the mood of this intriguing adaptation. It's unknown when The Essex Serpent will arrive, but it started production earlier this year. Therefore, it's possible that this streaming show will be ready for the fall, but it's more likely that it'll premiere next year. We should expect to learn more about this limited series in the weeks/months ahead.
Thor: Love And Thunder? - May 6th, 2022 (Filming)
Should we expect Loki to steal the show — yet again — in Thor: Love and Thunder? The likelihood is rather slim, admittedly, especially given that Thor's only brother/frenemy for eternity died under Thanos' hand in Avengers: Infinity War (sorry if that's a spoiler), but not impossible, given that a past version of the character managed to escape custody during the events of Avengers: Endgame.
With that said, knowing that Loki will reintroduce our title character through some alternate timeline trickery, perhaps we can expect to see Loki once more — albeit from a different universe — in this fourth Thor movie. Maybe he'll return via flashback? Basically, nothing is impossible in the MCU at this point, though we should note that Marvel hasn't made any claims suggesting Hiddleston's return. It's also worth noting that this movie is currently in the midst of production while the actor is busy filming the aforementioned Essex Serpent, presumably hindering his availability for at least a few months.
That said, it's totally within Marvel's nature to shoot scenes for various projects at once. Maybe Tom Hiddleston filmed a quick cameo while he was on set shooting Loki? He would be dressed up after all. Or maybe they'll greenscreen him in from elsewhere? Director Taika Waititi might've hinted at Hiddleston's potential return, but for now, that hint is merely speculation. Nothing is certain other than its release date: May 6th, 2022. That's when we'll find out whether or not the galaxy's biggest rascal is back once more.
White Stork - TBA (Announced)
Suffice to say, Tom Hiddleston is in the pocket with Disney+ and, now, Apple TV+. And, for better or worse, that won't be the end of his time with streamers. Soon enough, he'll work for another streaming service. Arguably the most famous one of them all: Netflix.
In February 2020, Netflix announced that Tom Hiddleston would frontline White Stork, a 10-episode political thriller series that explores "the paradox of truth in a post-truth world." And that's no lie! More specifically, the MCU actor was signed on to play James Cooper, a promising young politician who was chosen to run for a seat in parliament. But when Cooper's life is combed over for the intense public scrutiny that will inevitably ensue, it's not long before Asher Millan, his assistant, discovers various secrets from his perverse past — many of which could prove not merely damaging to his career but dangerous for his family and the powerful people who just backed his parliament bid.
Created by Christopher Dunlop (Jericho) and directed by Kristoffer Nyholm (Taboo), White Stork was publicly announced just before the COVID-19 pandemic shifted, you know, the known world as we once knew it. Therefore, it's hard to know where exactly this series is in Netflix's timeline. Updates haven't been very plentiful for this streaming show, but if it's still set to happen, we should hear more details in the near-ish future.
Recent Tom Hiddleston Projects
Like many actors today, Tom Hiddleston has been tied up with various Marvel projects of late — both in the past and forthcoming. Most recently, he reprised his role as Loki in Avengers: Infinity War and Endgame. The actor also played this mischievous menace in Thor: Ragnarok. Away from the MCU, he was heard in Aardman Animation's prehistoric romp, Early Man. Additionally, Hiddleston frontlined Kong: Skull Island. Furthermore, he played himself in 2018's short film, Leading Lady Parts. Off the screen, Hiddleston went back to the theater with 2019's Betrayal, resulting in his Broadway debut. The towering performance resulted in a Tony nomination for the returning stage star. Not too shabby!
While Tom Hiddleston has primarily been saddled down with Marvel projects over the past decade-plus (a trend that continues for at least another year — maybe two or three), it's good to know that the actor of the stage and screen can continue to expand his dramatic talents and made room for plenty of other starring vehicles in various genres. But whether he's in projects big or small, Hiddleston keeps himself plenty busy.
This poll is no longer available.
Your Daily Blend of Entertainment News
Will is an entertainment writer based in Pittsburgh, PA. His writing can also be found in The Playlist, Cut Print Film, We Got This Covered, The Young Folks, Slate and other outlets. He also co-hosts the weekly film/TV podcast Cinemaholics with Jon Negroni and he likes to think he's a professional Garfield enthusiast.