Why Jupiter's Legacy Was Reportedly Cancelled So Quickly By Netflix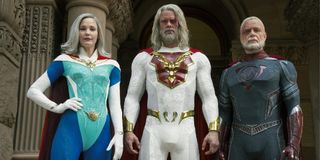 Netflix's Jupiter Legacy seemed like it was going to be the next big streaming superhero hit. With an ensemble cast that included Josh Duhamel, Ben Daniels, Leslie Bibb, Mike Wade, Matt Lanter and more, the Mark Millar comic book adaptation set itself up to be destined for a second season with cliffhanger plotlines and unresolved questions. However, Netflix delivered a devastating blow and cancelled the series less than a month after its debut. While shocking, the streaming giant's cancellation decision wasn't made without a few motivating factors that are now coming to light.
Even though the story of Jupiter's Legacy is not completely done, as Netflix has opted to instead produce its own universe-building ambitions with Mark Millar's other comics, The Hollywood Reporter states that there are multiple factors that led to the one-and-done flagship season. The series' initial developer and showrunner Steven DeKnight (of Daredevil and Spartacus fame) had initially asked the streamer for a budget of at least $12 million per episode to keep the show in line with similar high-budget superhero fare. Netflix only agreed to $9 million per ep, though that limitation ended up being moot, as Jupiter's Legacy was reportedly overbudget and running behind soon after shooting began.
Steven DeKnight and Netflix execs also reportedly clashed over "creative differences," leading to production shutting down halfway through the shoot. DeKnight exited Jupiter's Legacy and was replaced by Sang Kyu Kim, who apparently needed to restructure elements filmed for the first half of the season to coincide with the story's altered direction.
Furthermore, after production for all eight episodes wrapped, the show spent an excessive amount of 2020 in post-production. The filmmaker behind Netflix's Dark Crystal and Lupin series, Louis Leterrier, was reportedly brought in during the post-production process as a consultant to help mold the footage, but it appears not everyone was 100% pleased with the finished product that went out to subscribers. According to a Netflix insider, the final budget for Jupiter's Legacy landed at $130 million for the eight-episode season, but with the shut-down and extended post-production stretch added in, that total could have theoretically been upwards of $200 million.
As if budget problems weren't enough, one Netflix exec who was instrumental in greenlighting Jupiter, VP of original content Cindy Holland, exited Netflix amidst the chaos. Although shuffles like that are not uncommon in the worlds of TV and streaming, those taking over the new positions are often far more scrutinizing and picky about projects developed by outgoing creatives. And if a project doesn't look like a bone fide hit from every angle, its fate is likely harder to extend.
Netflix did, in a way, buoy the cancellation by announcing an interconnected Jupiter universe, with a new live-action series based on the unrelated comic titled Supercrooks by Mark Millar, which has been given a full series order, with the previously paused project The Magic Order once again returning to development. A day after the cancellation, reports came out claiming the series generated somewhere around 696 million minutes of view time over the course of its release week, when it topped Netflix's Top 10 for multiple days. So even though that kind of popularity might have saved other shows with less problematic productions, it's clear that factors beyond viewership played into Jupiter's Legacy ending before its story had fully been told.
Although it's upsetting that Jupiter's Legacy won't be returning for a second season at this point, it will be interesting to see how Netflix sets up this new universe and how the initial series will play a part in it. Even though Supercrooks will presumably have a new and unrelated cast, maybe we can still hope to see the Jupiter's Legacy characters in some way, shape or form.
In the meantime, Jupiter's Legacy is streaming on Netflix, and there are plenty of other quality shows to look forward to during the 2021 Summer TV season.
Your Daily Blend of Entertainment News
Passionate writer. Obsessed with anything and everything entertainment, specifically movies and television. Can get easily attached to fictional characters.