James Corden's Late Late Show Facing Increasing Criticism Over Popular Segment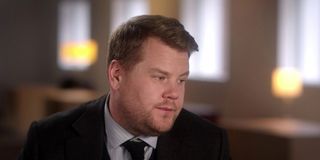 James Corden, as lovable as he is to a lot of people, is no stranger to backlash. During the last year, he came under fire for his performance as a gay character in Netflix's The Prom, for which he earned a Golden Globes nomination. Now, Corden is facing even more criticism over his Late Late Show's popular segment, "Spill Your Guts or Fill Your Guts." Fans are claiming the segment is culturally insensitive, and this isn't the first time this particular issue has caused a problem.
If you haven't seen the segment, which has been an occasional part of The Late Late Show for years now, "Spill Your Guts or Fill Your Guts" asks guests to either answer a personal or delicate question or eat seemingly unappetizing food. The segment has come under scrutiny due to the fact that a number of the dishes in question are actually foods eaten by a large group of people around the world, aside from the United States or Great Britain.
There is now an online petition on Change.org advocating for Corden to change the food being featured on the segment or to remove it entirely, and it has now reached well over 40,000 signatures and is still counting. The creator of the petition is Kim Saira, a Filipina and Chinese American activist. Saira felt prompted to launch the position after seeing the program feature balut, a Filipino street food that she grew up eating with her family.
Although Kim Saira was not angered by the portrayal of the food, she says (via CNN) that it just didn't sit right with her as the food is sentimental to her culture and that there are other food items on the show that are similar for other cultures. "Spill Your Guts or Fill Your Guts" previously drew backlash back in 2018 after food columnist Andrew Sun shared referred to it as "cultural chauvinism of the highest order" in the South China Morning Post.
The premise of Americans or other people eating foods foreign to them for shock value isn't new. Shows like Fear Factor (which is no longer on the air) and Survivor have used this type of challenge often. The difference, though, is that these shows, specifically Survivor, appear to celebrate the culture the food comes from and also educate the participants and viewers, immersing participants in that culture.
Kim Saira's petition and thoughts about James Corden's The Late Late Show arrive in the midst of a climate in which Asian communities have been the target of much hate and violence. On the petition's official page, Saira states that this kind of programming "continually perpetuates and encourages harm and racism against Asian Americans in our daily lives." The petition also asks for an apology from Corden along with the steps he'll take to improve in the future. In addition, it's been asked that donations be made to Asian American organizations that are assisting Asian-owned restaurants and small businesses.
James Corden has since responded to the petition, saying that they absolutely won't be using any cultural foods the next time the segment airs and that he and his crew meant no harm. Corden expressed that he wants The Late Late Show to be a source of "light and love", not one that causes harm. At this point, it's not clear when, or if, "Spill Your Guts or Fill Your Guts" will run again on The Late Late Show. CinemaBlend will continue to update you on any future developments of this story.
Your Daily Blend of Entertainment News
Constantly thinking about books, coffee, and the existential dread I feel from Bo Burnham's Inside. While writing I'm also raising a chaotic toddler, who may or may not have picked up personality traits from watching one too many episodes of Trailer Park Boys.