8 Movies That Explore Asian American History And Culture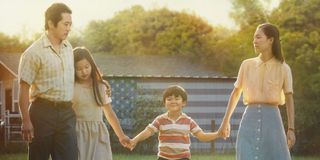 CinemaBlend participates in affiliate programs with various companies. We may earn a commission when you click on or make purchases via links.
Asian American movies like The Joy Luck Club have been one of the few to showcase predominantly Asian casts, but things are starting to change. Thanks in large part to the box office success of Crazy Rich Asians, Hollywood has turned their eyes to Asian American stories. Movies like Minari are also showing Asian American stories can be artful and award worthy. Check out the list below for more films that showcase the Asian American experience and culture. Or, in the case of our first and earliest entry, its importance in Asian American cinema...
Enter the Dragon (1973)
While this movie doesn't focus on the Asian American experience per se, there can be no denying Enter The Dragon's significance in Asian American cinema. Directed by Robert Clouse for Warner Bros. (and co-produced with Hong Kong's Concord Production, Inc), the set up is simple: Lee, played by Bruce Lee, is tasked by British intelligence to infiltrate the martial arts competition run by the notorious drug lord, Han, and take him down. Of course this film is often regarded as one of the greatest martial arts action films of all time, but what it represents is much more than that. Enter the Dragon and Bruce Lee helped break down western stereotypes of Asians, especially Asian men, who were commonly viewed as emasculated.
This was done not just with Bruce Lee's physique, but also through his insane amount of charisma and philosophy. Lee's work and influence was also responsible for the Kung Fu-mania that swept America in the 1970's all the way to today, with the CW's reboot of Kung Fu. Lee's style of martial arts also launched several action stars, including his close friend Chuck Norris, of Walker, Texas Ranger fame. Sadly, Lee passed away before the film was released, but Enter The Dragon's influence on pop culture is still being felt today.
Rent Enter the Dragon on Amazon.
Joy Luck Club (1993)
Only the second major studio film to feature a predominantly Asian cast (go back nearly 30 years to the problematic Flower Drum Song for the first), Wayne Wang directed this multi-generational movie based on the book of the same name. Featuring early performances from The Mandalorian actress Ming-na Wen, as well as Rosalind Chao and Lisa Lu, The Joy Luck Club is about four older Chinese immigrants who regularly see each other for mahjong and storytelling. Each has an adult daughter and deals with the struggles of leaving China and their attempts to bond and connect with their first generation daughters.
This '90s film holds a special place for a certain group of first generation Chinese-American immigrants, as it authentically depicts both the struggles their parents went through, as well as the struggle to be raised Eastern at home, but live in a Western society. This film was also one of the first to depict Chinese Americans not as caricatures, but as legitimate, realized people, warts and all.
Rent The Joy Luck Club on Amazon.
Better Luck Tomorrow (2002)
Directed by Justin Lin, Better Luck Tomorrow tells the story of a group of Asian American teens living in an Orange County Suburb. Most of the teens are overachieving and Ivy League-bound, however, to let off the steam from all the pressures they dabble in petty crimes, including selling answers to tests, drugs, and return fraud. Eventually as they fall deeper, the petty crime turns to violent crime.
An indie darling, Better Luck Tomorrow was Justin Lin's breakout hit. This is one of John Cho's first leading roles, and also featured Sung Kang, who will next be seen reprising his role as Han in the Covid-delayed F9 on June 25, 2021. Better Luck Tomorrow is a great example of showcasing an Asian American cast, and some of the stresses placed on these teens to get into top schools and put themselves on the path to success and the pitfalls that come with the pressure. This one is definitely worth a watch, especially if you want to see Justin Lin's more intimate work outside of The Fast and The Furious franchise.
Stream Better Luck Tomorrow Amazon Prime Video
Rent Better Luck Tomorrow Amazon.
To Be Takei (2014)
2014's To Be Takei, directed by Jennifer M. Kroot, didn't pick up any prestigious awards, but it is an interesting peek into George Takei's life. While he'll forever be known as Hikaru Sulu in Star Trek, Takei's life has been full of ups and downs. Notably and painfully, Takei and his family were put into an internment camp by the US Government during World War II, a dark chapter in American history that doesn't receive enough attention. Since his Star Trek days, Takei has had a steady career, mostly in voice work, but was recently seen in AMC's anthology drama, The Terror. He's also amassed a large following on social media thanks in part to both his funny, and politically charged tweets. Since coming out as gay in 2005, George Takei has also been a prominent LGBTQ activist along with his partner, Brad Altman. If you're looking for a fun and interesting peek into one of America's most prominent Japanese-American actors, make sure to watch this one.
Columbus (2017)
Columbus is the directorial debut of celebrated video essayist, Konogada. The tiny Southern Indiana town of Columbus is oddly enough, a sort of mecca for architecture. John Cho stars as Jin, a Korean American who has been living in Seoul as an English-to-Korean translator. His father, a renowned scholar, falls ill and is hospitalized in Columbus, which brings Jin back to America. Columbus illustrates the push and pull of Asian ideas about family and being duty-bound. Jin doesn't have a particularly good relationship with his father, but parts of him are battling with the guilt of growing up in a culture that expects you to take care of your family and the fact that he isn't particularly interested. This probably isn't a foreign concept to non-Asians, but Columbus really nails how deep that guilt can feel for some Asian Americans.
Crazy Rich Asians (2018)
Crazy Rich Asians is likely responsible for the most recent wave of Asian American-fronted cinema in Hollywood. This Jon Chu film is based on the eponymous book series. Rachel Chu, played by Fresh Off The Boat's Constance Wu, learns that her hunky and charming boyfriend is really the heir to one of wealthiest families in Singapore. This film also features Michelle Yeoh, and featured star-turns for Awkwafina and Henry Golding, who will next be seen in the G.I. Joe spinoff, Snake Eyes. After bringing her on a trip to meet his family, Rachel finds that even though she is among her own "people," she is actually culture shocked to see how this group of wealthy Asians live.
There's a lot to love about Crazy Rich Asians. This film strips away any images of servile, sexless Asians and proudly (and loudly) puts all of their beauty and power on full display. Using Rachel as our POV, the film also highlights the struggles some Asian Americans face when their identity isn't firmly planted in either the Asian or the American part of themselves. In America, Rachel Chu is about as Asian as it gets, but once she gets to Singapore it becomes clear that being Asian is more than just getting good grades and going to good schools. This movie also crushed the box office becoming the 6th-highest grossing romcom, proving that Asian-American led movies can be big business.
Rent Crazy Rich Asians on Amazon.
The Farewell (2019)
The tagline for The Farewell is "Based on an actual lie". Indeed director Lulu Wang channeled her own life story for this film, in which Chinese-American New Yorker, Billi, played by Awkwafina, learns that her grandmother in China that she is very close to has terminal cancer. More than that, her parents tell her that her Nai Nai (Chinese for grandmother) doesn't know, and they will not be telling her, instead faking a wedding as an excuse to get everyone together to see her one last time. The Farewell really challenges the idea of Eastern and Western philosophies around death, and puts it on full display. To Billi, this lie they are telling is about as awful as it gets. For her Chinese family, to tell her would be the easy way out, to keep this secret is their duty and responsibility to carry this burden for Nai Nai (played by Zhao Shu-Zhen).
Billi's parents also have to deal with the scrutiny from the rest of the family having moved to America many years ago. While the Western way of life is all about chasing your dreams, the Eastern way is more rooted in family and society. This movie uses the quirky wedding set up to move the plot forward, but The Farewell does a great job looking at the Asian American experience of balancing your heritage and trying to figure out your own path forward.
Stream The Farewell on Amazon Prime.
Minari (2020)
Minari has been an awards season darling, for good reason. This semi-autobiographical immigrant drama from Lee Isaac Chung stars The Walking Dead alum, Steven Yeun, as Jacob, a South Korean immigrant who has recently bought a plot of land in Arkansas in hopes of becoming a farmsteader. This tender and quiet drama captures the immigrant experience powerfully, showcasing the tension between Jacob, who has gone all-in on the American Dream, and his wife Monica, played by South Korean actress Yeri Han. Jacob is determined to make this dream work, and reluctant to go back to his life in California as a chicken sexer (look it up, it's SFW!).
Monica sees things a little differently, struggling to assimilate into this new small town life. Best Supporting Actress frontrunner, Youn Yuh-jung, is also a scene stealer as Monica's mother who comes from Korea to help with the children. This adds another layer, as she brings a bit of the old life Jacob is trying to leave behind. In particular, their son David longs for an "American" grandmother who smells nice and bakes cookies, rather than his very Korean grandmother. The film doesn't answer any big questions about the success, but it leaves you hopeful for the future.
These are just a few of the many great works out there to capture Asian American stories. Netflix has also been putting out Asian American-led films including the romcom, Always Be My Maybe, and the popular film series, To All The Boys I've Loved Before. Contract negotiations have stalled the sequel to Crazy Rich Asians, but perhaps the biggest test is yet to come when Marvel Studios releases Shang-Chi and The Ten Rings, which is due in September 2021.
Your Daily Blend of Entertainment News
Never not rewatching Mad Men. Lover of comic books and all things related. I spend most of my free time giving medicine to my geriatric cat.