While We Wait For Jackass 4, Johnny Knoxville Is Hyping Us For Steve-O And The Gang's Shark Week Appearance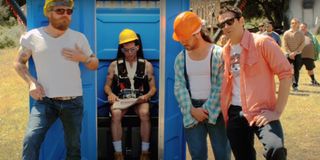 (Image credit: Dickhouse Productions)
Most of the Jackass cast of goofsters and stunt performers – who we love to watch punch, dropkick and just generally put their bodies through absolute hell – are returning for Jackass 4. It's been ten years since their last film, and we'll have to wait a few more months before the next installment. In the interim, though, Johnny Knoxville is hyping up the fans for something even more gruesome: Knoxville, Steve-O and all the rest's upcoming appearance together on Shark Week.
Jackass ringleader Johnny Knoxville teased their stint (or should we say stunt) on Discovery's Shark Week on Instagram. The gang is going diving and there's a signature Jackass intro to match. The pic shows Steve-O, Chris Pontius and others seemingly walking in slo-mo up a dock surrounded by smoke. Steve-O still has his speedo but, shockingly, Pontius needs to wear briefs under his now. See their strut walk into the den of sharks below:
To add to the hype, Discovery released a clip of the Jackass 4 crew on Shark Week. Steve-O is heard saying, "There's nothing left to do but jump the shark." Meanwhile, Johnny Knoxville asks, "What can go wrong?" (I can think of one or two things.) Check out the big splash here:
Judging by the clip, it looks like someone is about to get the scare of their life on Shark Week. This follows the long history of celebrity Shark Week mashups, such as Mike Tyson's fight with a shark or Shaq's turn on the longtime show. But the Jackass 4 cast are probably pretty much used to impending danger at this point. Johnny Knoxville's been chased down by bulls and Steve-O once put raw meat in his thong as he tightrope-monkey-climbed over a pit of alligators. Sharks should be an easy cake walk or, in this case, a water ski jump.
From what we know about the upcoming film Jackass 4, Johnny Knoxville and the rest of his gang are still willing to do other even crazier stunts. Apparently, Steve-O gets purposely paralyzed from the waist down and Knoxville does a magic show for a bull. We'll leave the logistics of that scenario to the professionals – as always.
However, it's a bit surprising that Johnny Knoxville and the rest of his stunt squad did Shark Week on top of Jackass 4. So far as we know, the fourth film is supposed to be Knoxville's last hurrah "before something irreversible happens." According to Steve-O, he was also wary of doing another sequel because "one stupid fucking accident" could turn their legacy "into a negative."
In my mind, the reason for doubling up on the risk-taking stunts this year is probably that Jackass 4 might truly be the end of the franchise. My wish would be that possibly Johnny Knoxville, Steve-O and all of the alums pass the torch to whoever the newbies are that show up to be cannon-blasted over lakes or jump over sharks.
The gang's Shark Week adventure premieres on Discovery on July 11 at 10 p.m. Jackass 4 is slated for release on October 22. We've done our waiting, though, and fans may not be able to stand much more hype (or controversy) for the much-anticipated film.
Your Daily Blend of Entertainment News
Movies and TV News Writer
Freelance writer. Favs: film history, reality TV, astronomy, French fries.