How SNL's Lorne Michaels Is Trying To Keep The Main Cast Around For Another Few Years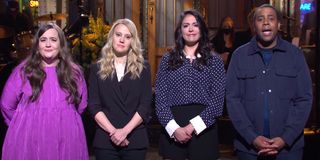 As Saturday Night Live is getting ready to return for Season 47 in the fall, more concerns are growing about what cast members will return. While fans are worried about cast members like Cecily Strong and Kate McKinnon leaving, creator Lorne Michaels has a plan to keep the main cast around until the series hits a major milestone.
Lorne Michaels is reportedly determined to keep the cast until the show hits its 50th season at least, according to Variety, which will be for the 2024-25 season and by doing so, he's giving those flexibility to work on other projects. Stars like Aidy Bryant, Cecily Strong and Kenan Thompson, who were rumored to be leaving, are working on other projects at the same time as SNL. It's not uncommon for contracts to let actors work on pursuing other projects while working on a main one and with the NBC series so close to hitting that Season 50, it's a better reason for the cast to stay on.
SNL has been around for decades so the cast is ever-changing, and it's been known to produce some superstar comedians. As the current cast is getting better known, they are taking on more projects, whether that'd be in film or TV. Kenan Thompson, Kate McKinnon, Cecily Strong, Aidy Bryant, Michael Che and Colin Jost have all been rumored to be leaving the variety series, and as the show gets closer and closer to its upcoming season, contracts will likely be finalized soon. Season 50 is a huge milestone, so even if the current cast only stays on until then, it would be better than nothing.
As contracts are still being negotiated, some SNL cast members are staying vague when it comes to answering questions about their future on the series. In June, Cecily Strong had a cryptic response for Entertainment Weekly about upcoming seasons of SNL, not exactly giving a straight answer on whether or not she'd be back, but she'd be thrilled either way. Meanwhile, Kenan Thompson has assured fans that he's staying with SNL for at least a few more years, despite his comedy Kenan, which Lorne Michaels also works on.
While concerns over who will be returning and who won't might not be settled until an official cast is revealed for Season 47, it is nice to know that Lorne Michaels is working around schedules to try and make sure that at least most of the cast is staying with the series until Season 50. However a lot can happen in just a few years. At this time, there's no need to worry just yet about your favorites not returning. Hopefully Saturday Night Live is going to be the show you know and love come this fall. Check out what else is returning with our fall 2021 TV schedule!
Passionate writer. Obsessed with anything and everything entertainment, specifically movies and television. Can get easily attached to fictional characters.
Your Daily Blend of Entertainment News
Thank you for signing up to CinemaBlend. You will receive a verification email shortly.
There was a problem. Please refresh the page and try again.