Survivor Winner Tommy Sheehan Has Only One Regret, And It Involves Runner-Up Dean Kowalski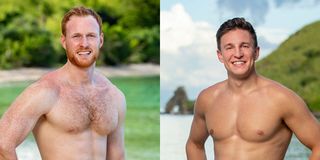 (Image credit: CBS)
The latter half of Survivor: Island of the Idols was almost exclusively defined by the rivalry between Tommy Sheehan and Dean Kowalski. It was clear one of them was going to win the $1 million prize, but given their polar opposite game paths, it was anyone's guess who it would be at the time. Ultimately, Sheehan was crowned the Sole Survivor winner, but he still has one regret and it involves his old runner-up foe.
Technically, Tommy Sheehan blew Dean Kowalski out the water, with an 8-2 vote in his favor at the final Survivor tribal council. So there's not much regret there. However, if fans were thinking Sheehan's regret would possibly be that shocking decision to help Kowalski in his fire-making challenge against his longtime ally Lauren Beck, then you'd be as sadly mistaken as I was. In fact, Sheehan's only regret apparently happened a few days prior to that. He told Entertainment Weekly:
On Day 36 of Survivor: Island of the Idols, mere days from the finale, Tommy Sheehan infamously shared clues to a hidden immunity idol with Dean Kowalski in a bid for help to find it. It was a huge mistake because his competitor inevitably used the information to find it for himself. (It didn't really matter much later to Kowalski, who ended up winning the next individual immunity anyways and had an idol nullifier in his back pocket as well.) If Sheehan had kept the clues to himself, then maybe Kowalski wouldn't have felt so comfortable going into the next challenge. Maybe Sheehan would have won that challenge himself and wouldn't have left his fate up to another player (namely, Noura Salman).
Obviously, Dean Kowalski didn't list that moment of learning the idol clues as his biggest regret on Survivor: Island of the Idols. But his own regret likewise involves winner Tommy Sheehan and his gameplay. Kowalski said to Entertainment Weekly:
As for the rest of the Survivor: Island of the Idols cast, there are other regrets to be had. Controversial player Dan Spilo, who was accused of inappropriately touching female tribemates and booted from the game, had a few. Tommy Sheehan's close ally Elaine Stott thinks the show needs to even the playing field for women to win (in a rather interesting way). Meanwhile, season outcast Karishma Patel absolutely hated her edit on the show.
In case you were wondering, though, Tommy Sheehan and Dean Kowalski are actually very close friends outside of Survivor. But if you think we'll ever see them go head-to-head again, think again, because Sheehan had also announced that he was officially retiring from the game, saying, "I love my life and career too much to leave again." Fortunately, Survivor is finally on the way back with new episodes, with Season 41 premiering on Wednesday, September 22 at 8 p.m. ET on CBS.
I am a vegan feminist. I'm fascinated by all things space/stars. I love film history, reality television, and my cat Bubbe.
Your Daily Blend of Entertainment News
Thank you for signing up to CinemaBlend. You will receive a verification email shortly.
There was a problem. Please refresh the page and try again.