How Jersey Shore Alum Snooki Celebrated The 11th Anniversary Of Her Drunken Arrest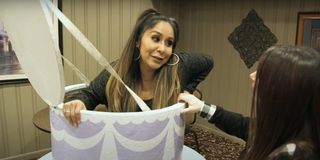 (Image credit: MTV)
There are quite a few moments from the original run of Jersey Shore that will live in infamy. Snooki and JWoww's "anonymous" letter to Samantha "Sammi" Giancola about Ronnie Ortiz-Magro's cheating, for one. Mike "The Situation" Sorrentino hitting his head on a concrete wall in Italy and ending up in a neck brace, for another. But Snooki's drunken arrest in Season 3 is top shelf, creme de la creme hilarious. The notorious alum actually celebrated the 11th anniversary of the event recently, with the best throwback imaginable.
On Instagram, Snooki posted a pic from the exact moment she was being escorted off the beach prior to her arrest on Jersey Shore. She wished herself a happy anniversary on the auspicious date, along with a screen grab of the reasons for her arrest, which included "disturbing the peace, disorderly conduct, and criminal annoyance of others." See her post below:
Snooki's drunken arrest on Jersey Shore was iconic (in a crazy way) for a lot of reasons, but the story building is what personally did it for me. She was steadily day-drinking to the point that she shared a pickle shot out of the mouth of a complete stranger at a bar. Then later on, she uttered the famous line, "Where's the beach!?" – only feet away from the beach. All of which culminated into the police officers trying to just escort Snooki away, to which she resolutely told them to "get the fuck off" of her. Hence the arrest and now the anniversary. Criminal annoyance, indeed.
Jersey Shore would officially end after six seasons in 2012. But the legend would live on in the form of Jersey Shore: Family Vacation. There was still the day-drinking and dramatic circumstances to be mined for reality TV eternity. However, things are clearly a little different in the new iteration, given that they all have their own grown-up families and issues to contend with that can be beyond the scope of their friend group. (Allegedly, Snooki's friendship with JWoww doesn't even extend past the show itself.)
Prior to Season 4 of Jersey Shore: Family Vacation, though, Snooki seemingly hung up her drunken antics for good by announcing that she would not be returning. At the time, she stated that it was a "toxic environment" that she would rather not leave her three kids to go through again. But as we've seen from the currently airing Season 4B, the alum just can't fully quit the show she helped put on the map.
In honor of the 11th anniversary of Snooki's arrest on July 30, 2010, it would only be appropriate that we all find a stranger to share a pickle shot with at the very least. As for me, I'll just be sitting here realizing how old I truly am…
I am a vegan feminist. I'm fascinated by all things space/stars. I love film history, reality television, and my cat Bubbe.