A Law And Order Co-Star Tried To Play A Hilarious Prank On Christopher Meloni On Set. He Didn't Even Notice.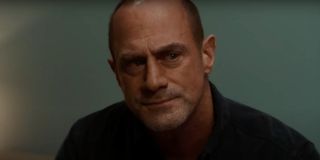 Christopher Meloni has intermittently played Detective Elliot Stabler on various incarnations of Law & Order since 1999, most notably the spin-off Special Victims Unit alongside Mariska Hargitay's Olivia Benson. Part of what makes Elliot Stabler a great detective despite his hot headed tendencies is his ability to notice small details that eventually add up to a bigger picture, such as a dock worker that mentions a name they couldn't possibly have known unless they were involved in the crime. It turns out Meloni doesn't exactly share Stabler's observation skills, at least when it comes to his Law & Order: Organized Crime co-star's pranks.
While filming an episode of the NBC spin-off Law & Order: Organized Crime, Christopher Meloni's co-star Ainsley Seiger (who plays hacker detective Jet Slootmaekers) attempted to play a silly prank on the Wet Hot American Summer actor. The gag in question involved Seiger wearing a funky pair of earrings that were actually acrylic cut-outs of Christopher Meloni himself. You can check out her fun fashion statement below, courtesy of her Organized Crime co-star Danielle Moné Truitt:
All jokes aside, I would totally wear those, regardless of whether or not the actor would notice. Star Danielle Moné Truitt, who plays Stabler's partner Sergeant Ayanna Bel, hilariously set a timer on her phone to see how long it would take Christopher Meloni to see himself in his co-star's jewelry. But since that realization didn't appear imminent, it took exactly 31 minutes and 33 seconds for Ainsley Seiger to pull the plug on the pranky experiment because she couldn't take it anymore and pointed the earrings out to him.
As it was implied by Danielle Moné Truitt's comment, it's true that a lot of guys sometimes tend not to notice things like different haircuts and new shoes, but an oversized pair of colorful earrings with their own face on them? That's on another level of obliviousness, and it only adds to the hilarity when you realize that Christopher Meloni is literally holding his reading glasses in the photo. Sounds like he may need to make a new appointment with his optometrist (and please know that I say that with every possible ounce of respect and love).
In all fairness, Christopher Meloni has been pretty busy recently, and he's probably seen a lot of himself on lots of screens and magazines in the last year, so maybe his mind was elsewhere. Detective Elliot Stabler made a long-awaited return to Law & Order: SVU last April, reuniting with his former partner Detective Olivia Benson before taking a new leading role in Law & Order: Organized Crime. The spin-off was originally meant to premiere in 2020 before COVID-19 interfered, but after a series of pandemic-related shutdowns, the eight-episode first season of Law & Order: Organized Crime was finally able to premiere on NBC in April 2021, where it became a ratings win for the network.
You can revisit Law & Order: Special Victims Unit on Hulu, or catch up on the first season of Law & Order: Organized Crime on Peacock. The 24-episode second season is set to premiere during the 2021 Fall TV season on NBC on September 23, 2021.
Actor, singer, and occasional dancer. Likes: fashion, books, old buildings. Dislikes: cilantro, the NJ Turnpike, sneaker wedges.