6 New Law And Order: SVU And Organized Crime Questions That Need Answers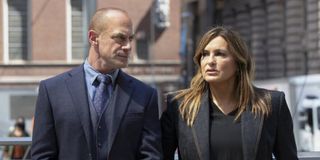 (Image credit: NBC)
Law & Order: Special Victims Unit and Law & Order: Organized Crime wrapped the 2020-2021 season a couple of months ago, and not a whole lot of news about what will happen when they return released in the weeks that followed. Now that the Season 23 premiere of SVU and Season 2 premiere of Organized Crime are on the way, however, some bits and pieces of what's on the way have hit the web, and now I'm asking a whole new batch of questions than what I was pondering back in June.
So, with the weeks counting down before Benson, Stabler, and all the rest are back on NBC with new episodes, let's take a look at some new questions that need answers as soon as possible come the fall!
How Will Benson Be Injured?
Actress Mariska Hargitay had a rough hiatus due to some injuries, including a broken ankle that wasn't healed by the time production began on Law & Order: SVU Season 23. News recently broke that the injury will be written into the show, and will be addressed in the Season 23 premiere, but the crutches will not appear on screen. Will Benson be injured on screen, and then be on desk duty for the first few cases of the season? Or already injured when the season picks up, and Benson will just explain it in the premiere?
Will There Be A Time Jump?
Since Law & Order: SVU is very much a procedural and the serialized Organized Crime wrapped its the big Wheatley case at the end of Season 1, it's possible that one or both shows will jump ahead in time for the action to pick up in the fall. A time jump could help speed-heal Benson's ankle if there's a reveal that she broke it shortly after Fin and Phoebe's aborted wedding, and fast-forward Stabler past some of the emotional aftermath of the OC Season 1 finale, but it's also possible that a time jump won't happen at all.
Will The Timelines Match?
Mariska Hargitay posted a behind-the-scenes video from Season 23 production on Instagram that reveals she'll be wearing the same dress that Benson wore to Fin's not-wedding again, which suggests that Season 23 picks up where Season 22 left off. The problem is that Chris Meloni appeared in the SVU finale and Hargitay appeared in the Organized Crime finale. Unless it's established that the Organized Crime finale actually took place earlier in the timeline than the SVU finale, the timelines might not match or make too much sense, especially if Benson's injury happens early on. So how will it work?
What Brings Stabler's Mom Back, And How Is Benson Involved?
Law & Order: Organized Crime is officially bringing back Stabler's mom, with Ellen Burstyn reprising the role she originated on SVU and won an Emmy for back in 2009. Burstyn's Bernadette Stabler will appear later in the fall, and hopefully won't meet the same fate as her daughter-in-law. Will she drop in to drop some news on her son, or share some sage advice? Is OC revisiting the storyline of Kathleen's SVU struggles with bipolar disorder? Or could Bernadette take in young Eli because it's still not safe with his dad? Will Organized Crime kill off another person Stabler loves?
Interestingly, there is already one clue about what will happen when Ellen Burstyn returns as Bernadette on Organized Crime. Mariska Hargitay posted an Instagram selfie that she snapped in a car with Burstyn shortly after the news broke of Burstyn's return, and both actresses appear to be in costume. It seems that Benson will be in the mix whenever Stabler has his mom around again, so how will that work out? And what will Bernadette have to say about their renewed bond?
How Much Will Stabler Be Dealing With The Wheatleys?
Even though Law & Order: Organized Crime wrapped up Stabler's efforts to put Richard Wheatley away for the murder of Kathy, Dylan McDermott is reprising his role as Richard Wheatley, although on a recurring rather than series regular basis, reportedly for just eight episodes of Season 2. There is no news of whether Tamara Taylor will be back as Angela Wheatley in Season 2. Did Angela survive the attempt on her life in the Season 1 finale? If so, is Organized Crime done with the odd attraction between her and Stabler? How much will Stabler have to deal with both Wheatleys, and might he have to work with Richard Wheatley?
What's Next For Rollins And Carisi?
Okay, I'm admittedly wondering what's next for Rollins and Carisi more because of the severe shortage of news rather than any big clues. Neither Kelli Giddish (who only had nice things to say about the Rollisi bond last season) nor Peter Scanavino have posted anything about Season 23 on social media, and the Law & Order social media accounts haven't dropped any teases either. So, has no news broken because there's no news to break and the good ship Rollisi isn't sailing on screen? Or is SVU just doing an excellent job of keeping a lid on their post-kiss dynamic? Or is everything somehow back to business as usual?
Bonus Not-So-New Question: What Was In The Letter?!
Look, there were a lot of questions that needed answers from the latest seasons of SVU and Organized Crime even before all of the recent reveals. Will Fin and Phoebe get married on SVU? Will Bell face any blowback at NYPD because of the lawsuit on Organized Crime? Can Deputy Director Garland endure the NYPD efforts to oust him? Is Carisi's dynamic with Rollins' kids not the cutest thing in the history of Law & Order? And yet despite all of these (and more) questions, there is one that many are asking above all: what was in that letter that Stabler wrote to Benson?!
I'm actually at the point of suspecting that neither SVU nor Organized Crime will ever explicitly reveal what Stabler wrote, and I'd honestly settle for even a passing acknowledgment that he and Benson had their conversation about it. The Law & Order franchise isn't known for spending a lot of time developing characters or relationships outside of what happens during the course of cases, so the Benson/Stabler dynamic stands out for multiple reasons. And dang it, I want something to happen with that letter!
Whether or not Law & Order: SVU and Organized Crime answer any of these questions remains to be seen, but the end of the wait for the shows to return is at least in sight. SVU Season 23 will premiere on NBC on Thursday, September 23 at 9 p.m. ET, followed by the Organized Crime Season 2 premiere at 10 p.m. ET. The whole Dick Wolf universe of shows – including the brand new spinoff – will be back by the end of September, so be sure to check out our 2021 fall TV premiere schedule for all the dates you need.
Laura turned a lifelong love of television into a valid reason to write and think about TV on a daily basis. She's not a doctor, lawyer, or detective, but watches a lot of them in primetime. Resident of One Chicago, the galaxy far, far away, and Northeast Ohio. Will not time travel, but will sneak references to The X-Files into daily conversation.
Your Daily Blend of Entertainment News
Thank you for signing up to CinemaBlend. You will receive a verification email shortly.
There was a problem. Please refresh the page and try again.