Watch Ex-Jeopardy Host Mike Richards' Failed Audition To Replace Price Is Right's Bob Barker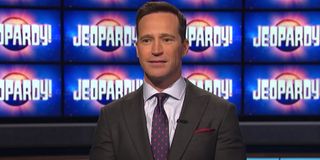 Jeopardy! has been making headlines for the past year, as the iconic game show has been on the hunt for a new permanent host. But more recently, the buzz has been related to Mike Richards, who was tapped to succeed the late, great Alex Trebek over a week ago. However, he resigned from the position after some past offensive comments and a lawsuit resurfaced. While Richards spent this year vying for the Jeopardy! hosting gig, some may not know that he was previously in contention to host The Price is Right after Bob Barker's retirement. And as it so happens, there's footage of his failed hosting audition for that show.
As with Jeopardy!, Mike Richards previously served as an executive producer on The Price is Right and held the position for 11 years. This arguably put him in a prime position to become the next host of the fan-favorite game show. We can't say for sure why the producers chose not to hire him for the job, but you can still get a feel for his hosting style by watching his audition episode for yourself. Check out the recently published YouTube video down below:
At first glance, Mike Richards just doesn't seem to have the spark needed to host the show, which almost always includes enthusiastic contestants and a lively studio audience. Sure, he's doing everything right and hitting his cues, but there just seems to be something missing. It should be said, though, that he was looking to fill the shoes of the legendary Bob Barker, and following up his work would be a tall order for most people. Still, Drew Carey, who was ultimately hired for the job, has been able to put his own signature spin on the gig.
Mike Richards' tenure with The Price is Right was not without its share of controversy. He became connected to discrimination lawsuits involving some of the models on the show. In one of the most high-profile situations, Brandi Cochran filed a wrongful termination suit that involved Richards. Cochran claimed she was discriminated against when she was fired from the show after becoming pregnant with twins. She also alleged that Richards made disparaging remarks about pregnant women. While Cochran would eventually win the suit, it was later settled on appeal.
In light of the resurfaced situation, Mike Richards released a statement in which he seemed to dispute the alleged comments. But he later apologized for offensive comments relating to race, women's bodies and other comments, which were made on his now-defunct podcast. Though these allegations would cause Richards to lose out on the Jeopardy! hosting job, he will still remain with the show as executive producer, and the few episodes he did film as host will still air as part of Season 38.
His decision to step down as host was met with a slew of reactions from people across the web. Celebrities like Ryan Reynolds and Yvette Nicole Brown were among those to weigh in, and many also used the opportunity to show support for LeVar Burton, who many believe should take the job. Burton also reacted to Richards' decision, though the veteran actor and academic took the high road with his response.
Jeopardy! currently has Big Bang Theory alum Mayim Bialik on tap to host primetime specials and spinoffs for the program. One would think that the producers are aiming to have the new permanent host set sooner rather than later. There's no telling who may get the job this time around but, with the momentum still surrounding LeVar Burton, he still has a legitimate chance of earning it.
Jeopardy! Season 38 is set to begin on September 13.
Covering superheroes, sci-fi, comedy, and almost anything else in film and TV. I eat more pizza than the Teenage Mutant Ninja Turtles.
Your Daily Blend of Entertainment News
Thank you for signing up to CinemaBlend. You will receive a verification email shortly.
There was a problem. Please refresh the page and try again.