The Cool Reason Jeopardy's Alex Trebek Has A Free Guy Cameo, And How They Filmed It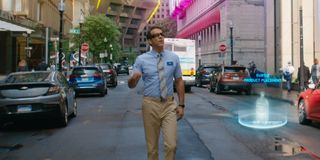 Free Guy has been one of the most entertaining summer movies, and fans love the video game-inspired film. The Ryan Reynold's led movie is jam-packed with references and incredible cameos, including one from Captain America himself, Chris Evans. One of the coolest cameos in Free Guy is when the late Jeopardy! host Alex Trebek introduces a question on the game show about Ryan Reynold's Guy. The director of Free Guy has explained the cool reason behind the cameo and how it was filmed.
Director Shawn Levy, appearing on the ReelBlend podcast, discussed one of the best and most effective cameos in Free Guy. Alex Trebek played himself in a clip from Jeopardy! that provides some important context to the film and adds to the sensation that guy becomes within the world of Free City. Shawn Levy explains why the cameo was critical, saying:
Shawn Levy explains what went into filming the cameo, using a small crew and the show's equipment. Becoming an answer to a question on Jeopardy! means that something is really popular or a hot topic, and that's precisely what Trebek's cameo is supposed to convey. Blue Shirt Guy is becoming a sensation in the real world, and as his fame grows, he gets the ultimate acknowledgment of his popularity, and that's being a question on Jeopardy!.
The idea came from Ryan Reynolds, who came up with the cameo in the editing room with Shawn Levy. They needed to make Guy famous and that he is blowing up in popularity, and Jeopardy! was the perfect way to show that. Ryan Reynolds apparently came up with a lot of ideas in the editing process that made it into the movie, including a hilarious scene involving Levy's daughters. Free Guy looks like it was a blast to make, and the director and star weren't afraid to try anything.
Free Guy dominated the box office its opening weekend, dethroning The Suicide Squad and making its mark on the summer movie landscape. Ryan Reynolds revealed that Disney already wants a Free Guy 2, and after years of pitching it as an original idea IP, he now has a new franchise.
Free Guy joins a list of 6 other great movies that take place within a video game, taking its premise and running with it, resulting in a creative and super fun film. Free Guy was a big surprise, and more of it is music to fans' ears. Being set in a video game world means the possibilities for what's to come, and all the future cameos and pop culture references are endless. We cant wait to see what's next for Blue Shirt guy after the movie's epic ending.
Your Daily Blend of Entertainment News
Movie and TV obsessive. A good Heist movie is the way to my heart. Enjoyer of everything from Marvel Movies to Rom-coms.