How What If…?'s Steve Rogers Actor Prepared To Voice Chris Evans' Iconic Character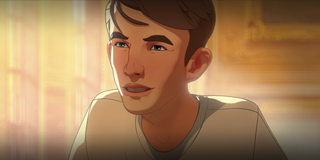 Many actors have taken on roles that others have played before them. It probably feels like a daunting task -- especially if you're being asked to portray someone that's well known. Like, say, Steve Rogers. Playing Chris Evans' iconic MCU character isn't something that anyone can take on lightly. And the actor who was cast to voice him in Marvel Studios' animated series, What If…?, went to great lengths to make sure he got it right.
What If…? is an inventive new animated series streaming on Disney+. It takes a look at Marvel's most memorable films and explores how the MCU might have unfolded if key moments had played out differently. In doing so, it picks up with the Marvel multiverse where Loki's finale left off. Many MCU actors from across the film series have come back to voice their characters in animated form. However, Chris Evans -- a.k.a. Captain America -- is not one of them, despite his character arc in Captain America: The First Avenger being a significant part of the series' first episode.
So Josh Keaton, a seasoned voice actor who also played Peter Parker in The Spectacular Spider-Man, stepped in to play "Skinny" Steve Rogers in What If…?'s first episode. Though he ultimately isn't the focal point -- it's actually Peggy Carter (Hayley Atwell), who takes on the role of becoming a super soldier -- he still had to make sure he was capturing the essence of the character so fans would recognize him. Keaton told The Direct that he did a deep dive into the MCU canon to make sure he did justice to Chris Evans' Steve Rogers:
Keaton also said that one of the biggest challenges of voicing Steve Rogers for What If…? was that his performance was recorded without any animation or visual aid. That meant that he ended up working closely with the series' creative team to make sure he was getting the tone right, not just for the character overall but for each scene as well.
Since What If…? is an anthology series, it's hard to guess what's in store -- but more Steve Rogers certainly isn't off the table. In the meantime, you can catch the first three episodes of the series now.
Your Daily Blend of Entertainment News