The Real Reason Survivor: Island Of The Idols Winner Tommy Sheehan Is Retiring From Reality TV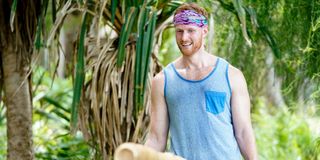 (Image credit: CBS)
Ahead of his stint on the new season of The Challenge, Survivor: Island of the Idols winner Tommy Sheehan announced he was retiring from reality TV for good. It was a surprising decision. Most alums of Survivor, Big Brother, Amazing Race and so on take as many opportunities as the networks will offer them to have adventures and win huge cash rewards in the process. So what's the real reason behind Sheehan's early retirement?
Certain reality TV shows are, in fact, rather grueling. Though some alums wax nostalgic about the even grittier early days, Tommy Sheehan still had to starve and out-strategize for 39 days in order to win Survivor: Island of the Idols in 2019. More recently, he found himself with a concussion after a particularly nasty competition on The Challenge: Spies, Lies and Allies that ultimately sent him packing. In an interview with Entertainment Weekly, Sheehan explained that he's done with all of that now, and here's why:
There's hard, then there's Survivor hard. Winning the game is, without a doubt, an impressive feat, so we can't quite blame Tommy Sheehan's reasoning for retiring. The physical component, which is taxing even for the best of the best, is actually the least of concerns. The social strategy and dynamics of the game have evolved and heightened so much over the years that the upcoming season is reportedly having to do a factory reset to shake things up.
It's still unfortunate for fans that Tommy Sheehan is bowing out of the reality TV arena quite so soon. His run on Survivor: Island of the Idols and consequent feud with runner up Dean Kowalski was the stuff of legends, which he could have parlayed into multiple wins like Sandra Twine-Diaz or Tony Vlachos. Alas, Sheehan claims he has more important goals to attend to. He continued:
I'm hoping other notorious Survivor winners won't follow Tommy Sheehan's lead into retiring. One could never get enough of Cirie Fields or Boston Rob or Tyson Apostol, with all of their mind tricks and eccentric personalities.
Season 41 of Survivor supposedly has a fresh batch of new blood to work with, though. Here's hoping that Jeff Probst delivers on his Twitter promises. Check out the premiere on September 22 on CBS.
I am a vegan feminist. I'm fascinated by all things space/stars. I love film history, reality television, and my cat Bubbe.