New 30 Rock Clip Proves Jenna Is Not A Good Choice To Host A Singing Competition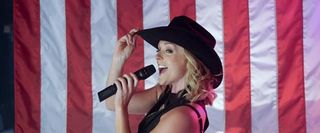 We're still a little bitter about the news that Community won't be returning next month, but we can at least take comfort that one of our other favorite TV comedies will be returning to the airwaves. NBC's 30 Rock will return to Thursday nights on January 12th at 8/7c, and a new clip lets us see some of what they have in store for us. Specifically, a new -- and spectacularly ill-advised -- gig for Jenna. She already acts, sings, and dances (and who could forget her star turn in The Rural Juror?), so what new field will she conquer now? Host of a children's singing competition, Kidz Got Singing. That should go well.
As any 30 Rock worth their salt knows, Jenna is at her funniest when she's being a horrible human being, so she's pretty damn funny right there. Between Jenna's wholly inappropriate catchphrases and advice, the black dude's quick aside ("I've done that"), and the line "I like the third one for me, and her crying on the second," it's classic 30 Rock. Keep the laughs coming, Tina Fey; it'll help hold back my Community tears.
Your Daily Blend of Entertainment News
Your Daily Blend of Entertainment News
Thank you for signing up to CinemaBlend. You will receive a verification email shortly.
There was a problem. Please refresh the page and try again.