30 Rock Making Plans To Rescue Avery Jessup From North Korea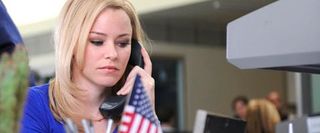 It's a little silly to keep up on the twisty plot of 30 Rock, since you never know when the show might scrap a storyline in favor of another silly Tracy Jordan adventure, but it's hard to forget what happened to Jack Donaghy's wife Avery at the end of last season. The CNBC correspondent had been sent to North Korea as part of a "Hot Blondes in Weird Places" segment, only to be kidnapped by Kim Jong-Il and married off to his son, Kim Jong-un. Now that Kim Jong-Il is dead, Kim Jong-un has taken over ruling the country… which, in the twisted world of 30 Rock, makes Avery North Korea's First Lady.
Not long after news broke of Kim Jong-Il's death, Avery herself Elizabeth Banks tweeted her thanks for the "concern over Avery Jessup's fate." And now 30 Rock producer Robert Carlock has told Us Weekly that they are indeed working out a way to tie up Avery's story, even though they're already shot eight or nine episodes of the new season:
So does that mean Avery could be coming home? It does seem surprising, given Jack's previous romantic relationship with former Secretary of State Condoleeza Rice, that he couldn't pull some strings to get out of there. But of course, in the loopy world of 30 Rock, not only might Avery come home, but Kim Jong-Il himself-- played by Margaret Cho-- might make a comeback:
After watching Cho read the weather as "Johnny Mountain," I can't say I wouldn't watch that show.
Your Daily Blend of Entertainment News
Staff Writer at CinemaBlend