6 Reasons You Must Check Out Titan's Doctor Who Comics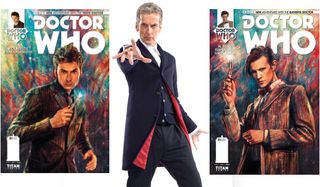 Doctor Who is a series that has spanned generations, sparked excitement all around the world, and inspired fandom like nothing else. But now the groundbreaking television series that leaps through time and space is leaping into a new medium with Titan Books' Doctor Who comics.
I had the good fortune to preview the first issues of this exciting new string of comics, which features a line for both the tenth Doctor (played by David Tennant) and the eleventh (played by Matt Smith). Below, I outline the six reasons why these comics are a must for any Doctor Who devotee.
Great Appetizer For Season 8
If summer seems a cruel stretch counting down to the next much-anticipated season of Doctor Who, these books offer a blessed relief in the form of new adventures.
The tenth Doctor's story picks up just after he's left Donna Noble behind to her family, her memory of all her derring-do and heroics forever erased. (This is in no way pertinent to the comic, but I'm still very irritated with that particular plotline resolution.) Now, Tennant's doctor finds a new quest--and possibly a new companion--when he lands in New York City, where a Mexican-American family is plagued by a strange malevolent presence as The Day of The Dead approaches.
The eleventh Doctor's book is set in the time right after he's left Amy and Rory to enjoy their newlywed status, once they finally tied the knot. From there, he crashes into the life of a British woman whose had nothing but bad luck in the wake of her mother's death. Who better than Matt Smith's Doctor to appear and perk up her life with a spot of intergalactic adventure. Adventure is cool!
More Time With Doctors 10 & 11
It seems of all the Doctors the series has had, none have captured the imagination and hearts of viewers quite like David Tennant's and Matt Smith's. Blame it on the instantly iconic costumes. Blame it on each's distinctive yet quirky sex appeal, or their ability to swerve from playful banter to grandiose end-of-the-world oration. There's just something about these two. So fans should easily welcome the ability to spend a bit more time vicariously romping about with them, which these comics gladly offer.
It Gets The Personalities Of The Doctor(s) Right
Of course, it's not enough just to have panels that carefully capture the look of doctors ten and eleven. It's absolutely crucial that the dialogue of the word bubbles feels true to these well-established characters. Thankfully, the book's writers nail the whimsy and melancholy of Tennant's Doctor, as well as the wide-eyed zeal of Smith's. The result is that true Doctor Who fans will easily be able to hear the actors voices as they tear through these comics' pages.
Find That Elusive TARDIS Pool
The TARDIS is a bigger-on-the-inside marvel from a time and place far away and in many ways incomprehensible. Even the Doctor Who series has only scratched the surface of its contents. But the pool that has been so much talked about but so little seen, finally has its moment here. Not just a glimpse a la "Journey to the Center of the TARDIS," but an actual pair of scenes where it's shown in full and all its glory.
More Time With The Pond Family
A mini-comic of the Ponds is more a frolic than canon. In it, a fully-grown River Song (Alex Kingston version) is about to go out on a date with the eleventh Doctor, much to the chagrin of worried dad Rory. I won't say anything else because spoilers.
Sontaran Stand-Up
While the eleventh Doctor comic gives a chance to visit with that wacky Pond family, the tenth's gives us a look at what comedy is for a race that loves war and dying in battle more than just about anything. Ending an individual comic with these one-page bits of clever and cute fan service is like a bit of desert after the feast of a new Doctor Who adventure. Keep em' coming. And how about bringing in the trouble-making trio of Madame Vastra, Jenny Flint, and Strax?
Issue 2 of Titan Books' tenth Doctor series will be out August 27th. Issue 2 of the eleventh Doctor series will hit on September 10th. And the 12th Doctor will launch a series of his on October 1st. Doctor Who the series kicks off again on August 23rd.
Staff writer at CinemaBlend.
Your Daily Blend of Entertainment News
Thank you for signing up to CinemaBlend. You will receive a verification email shortly.
There was a problem. Please refresh the page and try again.