7th Heaven's Barry Watson Joins Gossip Girl Final Season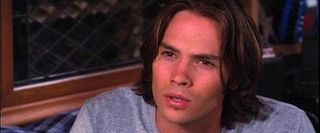 Gossip Girl's Serena is getting a new love interest for the final season of the series headed our way this fall. 7th Heaven star Barry Watson has been tapped to join the CW series opposite Blake Lively in a recurring role; could it be that she'll finally be lucky in love as the show comes to a close?
TVLine says Watson will come on for the final season playing Steven Spence. So far all that's known about the character is that he is a young entrepreneur; where and how he'll come into Serena's life and just how a romance will blossom is at yet under wraps. With this being the show's final season, we can expect plenty of surprises in store for viewers, and it's entirely possible the outcome of this romance will be one of them.
Although he's best known for 7th Heaven, Watson also did a recurring role on Samantha Who? and a starring role in the ABC Family movie My Future Boyfriend.
The CW has given Gossip Girl a final season in which to wrap things up and go out with a bang; a decision that doesn't seem to have surprised anyone. Several stars, including Blake Lively, have contracts expiring so it was a logical time to bring things to a conclusion. The CW has a handful of new dramas coming in both for fall and midseason, so Gossip Girl fans may well find something to move onto among them. The final season is set to premiere on October 8th, with a move to Monday nights.
Your Daily Blend of Entertainment News
Your Daily Blend of Entertainment News
Thank you for signing up to CinemaBlend. You will receive a verification email shortly.
There was a problem. Please refresh the page and try again.