9 Shows That Premiered In The 90s That Are Still On The Air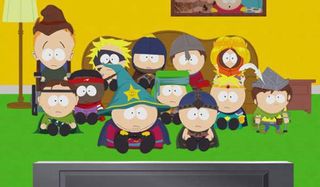 The TV landscape is tough and competitive. An overwhelming majority of shows never even make it to five seasons. Between ratings and budgets and cast members moving on, it's really difficult to keep a good thing going. Even amidst all these hardships, however, there are somehow a solid group of shows still cranking out new episodes that premiered all the way back in the 1990s. In fact, an overwhelming majority of them are so old they competed against Home Improvement at one point. How nuts is that?
Get ready to feel really old…
Law & Order: Special Victims Unit
Holy moly. If there's any show on the air that's guaranteed to make you feel ancient, it's Law & Order: SVU, which has been running on NBC since 1999. Even crazier, series lead Mariska Hargitay has been around since the very beginning and Ice-T has been around since Season 2. Still, the 16 seasons of SVU that have been produced so far still aren't that impressive when compared to the original Law & Order, which ran for 20 seasons on NBC.
South Park, 1997
South Park is a cartoon that has evolved over the years. Premiering in 1997, the Comedy Central show has produced 17 seasons of content, but still manages to feel fresh thanks to bringing in Game of Thrones three-parters and mocking Lorde. As comedy has changed, South Park has changed. Yes, we miss the days when laughs could be garnered through killing Kenny every couple of episodes, but this more pop culture-oriented version of the show is still entertaining. Or maybe we're just getting old.
SpongeBob SquarePants, 1999
It's hard to believe SpongeBob SquarePants has been entertaining children and angering helicopter parents for more than 15 years. There are literally kids with drivers licenses and permits right now who weren't alive before SpongeBob was on the air. Miraculously, SpongeBob has managed to maintain its status as a prominent cartoon, and even earned a big budget theatrical release this year.
Modern Marvels, 1995
Feeling old yet? Well prepare to feel the strain of age even further. History's flagship series, Modern Marvels has, at this juncture, produced a whopping 19 seasons and 660 episodes. The marvelous program actually aired during History's first day of broadcasting way back in 1995, so it literally has been on the air since the cable channel's inauguration. And to top it all off, Modern Marvels is still a prominent series for the channel, today.
Family Guy, 1999
First premiering in 1999, Fox's cartoon staple Family Guy has aired in the same Sunday night block with The Simpsons for quite some time. Maybe because The Simpsons dwarfs Family Guy in terms of longevity, Family Guy doesn't feel like it has been on the air for more than 15 years, at least if you don't count that brief window in which it was cancelled before fan outrage brought it back. It's probably best to come to terms right now with the fact this show is definitely, officially old as dirt.
Whose Line Is It Anyway? 1998
This one's a bit of a cheat, as Whose Line has not run continuously for the past decade+. The original Whose Line is it Anyway? was hosted by Drew Carey and ran between '98 and '07 on ABC. Then, the CW brought the show back just a couple of years ago. More than five years passed between the original seres and the comeback, which is already in its third season with the new host.It's pretty amazing that the show could be off the air for five years and still be on its 11th season.
The View, 1997
The View has seen better days in terms of ratings and controversy, but let's give the show props where props are due. ABC's daytime show has been eking out a living since 1997, which has theoretically been a great deal for all the camera crews and behind-the-scenes people that have earned a living wage from the show. The View may now be a dinosaur, but it's still doing pretty well for a show that has changed very little (but its lineup) in the past 18 years.
Who Wants To Be A Millionaire, 1999
If you haven't caught Who Wants To Be A Millionaire in a while, have no fear, the show is still going strong—in syndication. While original host Regis Philbin is long gone, the last couple of years have seen Terry Crews and Cedric the Entertainer do well with the hosting gig. The Bachelor host Chris Harrison will take over the gig this fall. While we miss the game show's heyday on network TV, we're pretty happy to tune in for this one in syndication every once in a while.
Curb Your Enthusiasm, 1999
We had to include Curb Your Enthusiasm in this list because of the sheer insanity of its run in terms of ups and downs and the open door HBO has left for the comedy's return. It's amazing to consider that Curb has produced eight seasons over sixteen years on HBO. While a new season hasn't been produced in a few years, talk regarding more Curb is always happening, meaning it's not over 'til it's over.
Reality TV fan with a pinch of Disney fairy dust thrown in. Theme park junkie. If you've created a rom-com I've probably watched it.
Your Daily Blend of Entertainment News
Thank you for signing up to CinemaBlend. You will receive a verification email shortly.
There was a problem. Please refresh the page and try again.