ABC Bringing Back Castle For A 3rd Season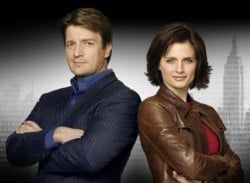 Just a few weeks ago, the fate of ABC's Nathan Fillion-lead series was in doubt. Suddenly, ratings surged and now the network has given the nod for a third season of Castle. A lot of that momentum can be handed to its much more impressive lead-in these past two weeks: Dancing with the Stars.
But ABC has always seen potential in the series. It just needed some way to get more viewers to watch, and just like FOX used the power of American Idol to help both House and Bones become bona fide hits, ABC is tapping its most consistent reality performer to try and grow some of its own brands.
As it stands, Castle becomes only the fifth series renewed by the alphabet network so far this year, coming after their three Wednesday comedies and Brothers & Sisters, which has been consistent, but down, this season. With Lost coming to a close, and Desperate Housewives, Private Practice and Grey's Anatomy all posting declines on the year as well, ABC is having to think long and hard about how much new to sprinkle into next season's mix.
After all, a whole night of new on Wednesdays gave them three success stories, out of five programs, while their veteran shows are on their way down in the ratings. Perhaps bold and new is the way to go if ABC wants to become the darling of the TV landscape the way they were when Lost and Desperate Housewives were both new.
Your Daily Blend of Entertainment News
Your Daily Blend of Entertainment News
Thank you for signing up to CinemaBlend. You will receive a verification email shortly.
There was a problem. Please refresh the page and try again.