ABC Is Bringing Murder Back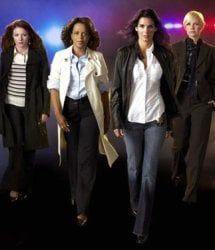 Good news for me and the three other people who are fans of ABC's freshman drama Women's Murder Club: it's definitely coming back. Mixed critical reviews coupled with a Friday-night timeslot of death led to the Angie Harmon cop show being perched precariously on the bubble after production was shut down due to the writers strike.
Instead of quietly burying the show however, ABC is shaking things up in hopes of generating new interest and better ratings for Murder Club. In addition to replacing the original showrunner with Law & Order vet Robert Nathan, the network is moving the series from the Friday dumps to Tuesday night. Murder Club will be taking Boston Legal's 10 pm time slot on April 29th, while that show moves to Wednesdays at 10.
Even though I'm a fan of Women's Murder Club, I'm not going to pretend the show doesn't have its problems. The James Patterson books on which it is based aren't exactly fine literature. I actually had one on audiobook for a car trip to Maine last November, and my boyfriend spent the entire drive laughing at how bad it was—and nearly threw the CDs out the window somewhere around New Hampshire.
While the writing on the TV version was good, my big problem with the show is how it often felt like Sex and the City with bloodier professions. I prefer my cop dramas with more serial killers and less freaking out over your ex-husband's remarriage. Hopefully with Nathan at the helm, we'll be able to keep the dynamic relationships between these women, but find room to add more actual police work.
Your Daily Blend of Entertainment News
Your Daily Blend of Entertainment News
Thank you for signing up to CinemaBlend. You will receive a verification email shortly.
There was a problem. Please refresh the page and try again.