ABC Tells Kimmel So Long (For Now)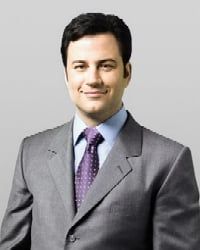 Over the past few weeks, networks have been suspending or outright firing staff and crewmembers of the late night shows left and right. According to The Hollywood Reporter, the latest victim is someone pretty high in the ranks. ABC has reportedly suspended Jimmy Kimmel after a month of repeats due to the writers strike.
Since the strike began, most of the late night hosts have been finding ways to make sure their staffs continue to get paid. David Letterman is paying his employees as well as those from Craig Ferguson's show through his Worldwide Pants production company. Other hosts, including Jay Leno and Conan O'Brien are paying staff out of their own pockets. Up until this suspension, Kimmel was paying some employees with his own money, while ABC continued to pick up the rest of the tab.
With Kimmel's suspension likely goes ABC's portion of the payouts. The question that remains is what is Kimmel going to do? Will he continue to pay his employees, or will everyone associated with Jimmy Kimmel Live have to do without paychecks for the duration of the strike?
The recent move by ABC can be viewed as a pressure tactic to get Kimmel to resume his hosting duties before the strike ends. Last week, Carson Daly began taping new episodes of his chat show, Last Call with Carson Daly, citing imminent staff layoffs as his reason for crossing the picket line. Unlike Daly, Kimmel is a member of the WGA, so it is unlikely that he will be so quick to fold under network pressure. However, there is always the possibility that financial pressure may force Kimmel and his compatriots to give in sooner than they would like. If this were to happen, the hosts could find themselves in the position in which Daly currently finds himself: being harassed via YouTube by David Cross in a kitten outfit.
Your Daily Blend of Entertainment News
Your Daily Blend of Entertainment News
Thank you for signing up to CinemaBlend. You will receive a verification email shortly.
There was a problem. Please refresh the page and try again.