AMC Cancels The Killing After Two Seasons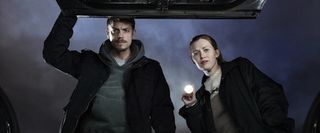 There's bad news for those who've stuck by AMC's crime drama The Killing. The cable network has opted not to renew the series for a third season. On the bright side, at least fans were rewarded with the answer to the drama's biggest mystery: Who killed Rosie Larsen? The big reveal took place during the series' second and final season.
Based on a Danish series Forbrydelsen, The Killing starred Mireille Enos and Joel Kinnaman and followed the investigation of the murder of teenager Rosie Larsen. The Hollywood Reporter posted the news today that AMC has cancelled the series, which wrapped up its second season in June.
I'll admit that I'm somewhat indifferent toward this news. I was not among the many who were frustrated by the end of the first season, when Rosie's killer was not revealed, as I'd already given up on the show by that point. There were some interesting, dark and intriguing elements about the drama from the start, and some pretty fantastic performances on the part of the cast (particularly Mireille Enos, Joel Kinnaman and Michelle Forbes), but the pacing wasn't working for me and about two-thirds of the way through Season 1, I realized that the only reason I was watching was to find out who killed Rosie. That one question wasn't enough for me to continue watching, and given the backlash at the end of Season 1, I don't regret it.
The above said, I hope this isn't the last we see of this type of drama on television. There's nothing quite like a good murder mystery. It may seem like an odd comparison, given the tone, but Veronica Mars' first season is a good, relatively recent example of a season-long murder mystery that was paced pretty perfectly. Granted, the then-UPN series had the advantage of humor and lighter moments to carry the show, but in addition to delivering a very satisfying conclusion to the Lily Kane murder mystery at the end of the first season, the series also managed to hold viewers' interest with other developments so that it didn't feel like the only reason to watch the show was to learn who the killer was. Maybe that wasn't The Killing's intention, but for me as a viewer, it felt that way. That said, looking back, I still see the potential in the style and format, and I wouldn't be opposed to giving another series like this a shot.