Will Agents Of S.H.I.E.L.D. Tie Into Captain America: Civil War? Here's What Clark Gregg Says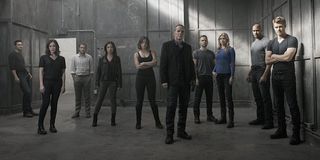 Agents of S.H.I.E.L.D. has a history with connecting to Marvel Studios' May movies. Its tie-in with the fallout of Captain America: The Winter Soldier in 2014 took the show in a more interesting and well-received direction, while last year it provided background on how Earth's Mightiest Heroes found Baron Strucker's HYDRA compound at the beginning of Avengers: Age of Ultron. This May, we have Captain America: Civil War hitting theaters, and it looks like Agents of S.H.I.E.L.D. will continue the tie-in trend with it, though maybe not necessarily as directly.
While he couldn't say whether there will be clear-cut connections to Captain America: Civil War, Agents of S.H.I.E.L.D. star Clark Gregg did tell TV Line that Season 3 indeed shares several themes with the third Captain America installment, which could lead to bigger things. He explained:
Of all the stories happening in the Marvel Cinematic Universe, Agents of S.H.I.E.L.D. definitely has the one that fits the best with Captain America: Civil War. Although there have been Inhumans on Earth for thousands of years in this world, their population grew following the spread of Terrigen in the Agents of S.H.I.E.L.D. Season 2 finale. Season 3 has seen S.H.I.E.L.D. recruiting Inhumans to help them understand their powers and bring some of them into the Secret Warriors. The ATCU, meanwhile, were later revealed to be headed by HYDRA's Gideon Malick and are gathering them up for sinister purposes; and on top of that, there are those like Lash who believe all Inhumans need to be wiped out. So there are differing viewpoints on how to deal with these superhumans popping up each day, which, as we've seen, leads to in-fighting.
While we won't see any Inhumans in Captain America: Civil War (or probably in any movie until 2019's Inhumans), the same principles will apply. After one of the Avengers' missions results in collateral damage, the Sokovia Accords will be passed, which forces the Avengers and other superheroes to operate under official oversight. This will lead to a conflict between most of the MCU's major heroes, with Iron Man leading the pro-regulation team and Captain America leading those against regulation. So even though the Agents of S.H.I.E.L.D. folks won't be participating in the conflict, it would be fitting if someone on the show mentioned this legislation being passed, thus setting up the new way the Inhumans will attempted to be regulated in the U.S., if not the entire world.
Agents of S.H.I.E.L.D. returns with new episodes Tuesday, March 8 at 9 p.m. EST on ABC.
Connoisseur of Marvel, DC, Star Wars, John Wick, MonsterVerse and Doctor Who lore. He's aware he looks like Harry Potter and Clark Kent.
Your Daily Blend of Entertainment News
Thank you for signing up to CinemaBlend. You will receive a verification email shortly.
There was a problem. Please refresh the page and try again.