Agents Of S.H.I.E.L.D. Is Bringing Back One Villain With A Twist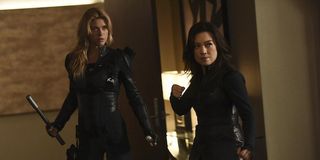 Agents of S.H.I.E.L.D. has been off the air since December, but when it returns next month, the main characters are still going to have a lot on their plate. More Inhumans are popping up across the globe, HYDRA is still active, and Grant Ward's body has been taken over by that evil Inhuman that had been trapped on the alien planet. That's more than enough for any government agents to handle, but things will get even worse for them (possibly) with the return of Crusher Creel, a.k.a. the Absorbing Man.
In the Season 3 midseason premiere, titled "Bouncing Back," Brian Patrick Wade will reprise the powerful Creel. He was briefly glimpsed in the recent trailer for the latter half of the season, but this confirms that he'll be thrown into the mix again. However, the Screen Crush report mentions that it's "unclear" whether he'll be a friend or foe this time around. Like his comic book counterpart, Creel is able to turn his body into any material he touches, making him one of the greatest physical threats the team has ever faced. So if he's on their side, that's good news.
Creel debuted in the Agents of S.H.I.E.L.D. Season 2 premiere as an operative HYDRA who was originally on S.H.I.E.L.D.'s termination list, but had his death faked by Season 1 antagonist John Garrett. In "Shadows," he was sent by HYDRA to find an Obelisk, a.k.a. that thing that petrified any non-Inhuman who touched it, and also contained a Terrine crystal within. His search for the artifact brought him into conflict with S.H.I.E.L.D., and when he finally did secure it, he remained unpetrified while handling it thanks to his special ability.
Unfortunately for him, Phil Coulson later used a device that neutralized his absorbing power, thus turning him into stone, which we now know was just temporary. He was then handed over to Glenn Talbot for safe-keeping. Eagle-eyed Daredevil fans also noticed that Creel was listed as Jack Murdock's final boxing opponent in Season 1 before he was killed.
We'll find out exactly how Creel escaped government custody in his return, but as for whether he'll be acting benevolently or remain a bad guy, I'm leaning towards the latter. He's a recurring adversary of Hulk and Thor's in the comics, and he wasn't a particularly good person on the series. So even if he's doing any noble deeds, it's probably just to further a secret agenda or to get in someone's good graces. Then again, sometimes people are capable of change, so we'll just have to wait and see if the MCU's Absorbing Man happened to absorb virtue and empathy at some point.
Agents of S.H.I.E.L.D. Season 3 will resume on Tuesday, March 8 at 9 p.m. EST on ABC.
Connoisseur of Marvel, DC, Star Wars, John Wick, MonsterVerse and Doctor Who lore. He's aware he looks like Harry Potter and Clark Kent.
Your Daily Blend of Entertainment News
Thank you for signing up to CinemaBlend. You will receive a verification email shortly.
There was a problem. Please refresh the page and try again.