Ali Larter Joins Sean Bean In TNT's Legends Pilot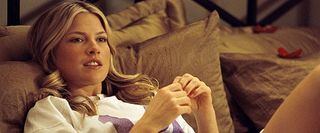 TNT's drama pilot Legends has found its leading lady. Heroes actress Ali Larter will take on the female lead opposite already cast Sean Bean (Game of Thrones) in the new project from Homeland's Howard Gordon.
Deadline says Larter will be playing Crystal, a D.C.O operative who has a history with former operative Martin Odum (Sean Bean). When the C.I.A. brings Odum on to join a task force, Crystal initially objects, likely because of that history. Odum is described as a brilliant operative with the ability to transform himself in a remarkable way for each case he works. Legends is based on the book by Richard Littell.
TNT had originally cast Brendan Fraser in the lead role of Martin Odum, but he was replaced in early December by Sean Bean, who starred in the Lord of The Rings movies in addition to his role on the first season of Game of Thrones. Ali Larter joins a cast that also includes Steve Harris (Awake), Amber Valletta (Revenge), Rob Mayes ( 90210), Tina Majorino (Grey's Anatomy) and Lux Haney Jardine (Abraham Lincoln, Vampire Hunter).
The project would bring her back to television for the first time since Heroes wrapped in 2010. Larter has been keeping busy with several movie roles, including Lovesick with Chevy Chase, which is due out this year. Larter had another CIA drama lead last season in the pilot for Fox's The Asset which did not move forward to series, but hopefully Legends will have better luck.
Your Daily Blend of Entertainment News
Thank you for signing up to CinemaBlend. You will receive a verification email shortly.
There was a problem. Please refresh the page and try again.