Alicia Keys and Stevie Wonder Will Perform A Duet At The Billboard Awards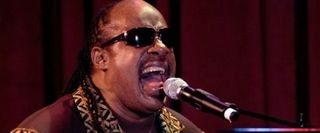 In addition to presenting him with the Billboard Icon Award, Alicia Keys is also set to perform alongside Stevie Wonder on the upcoming Billboard Music Awards broadcast. The two will perform a duet together at the ceremony, which airs from the MGM Grand in Las Vegas this coming Sunday night.
Keys and Wonder have performed a duet once before, at the 2004 VMAs where the two sang Higher Ground, and have also presented awards together at the biggest show in music, the Grammy Awards. This time they will take the Billboard Awards stage together, where Keys will present the special award to Stevie, and they will then let the singing pipes loose.
Keys is a 10-time Billboard Award winning singer, and of course Stevie Wonder is, well, Stevie Wonder. Each is a force in music in his or her own right, making a duet between the two an impressive sight (and sound) for Billboard Awards viewers. EW has word that they will reunite on stage this Sunday, but there is no announcement as to what they will sing together.
The Billboard Awards this year are being hosted by Modern Family stars Ty Burell and Julie Bowen, and among the stars expected to take home the honors are Adele and Rihanna. Charlie Sheen, Whoopi Goldberg, and Gladys Knight are among the presenters. With the death of Donna Summer this week, I won't be surprised if we see a tribute to her on the stage – it may even come from Keys and Wonder.