Alyssa Milano Is Romantically Challenged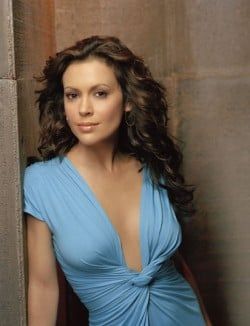 As long as my generation watches television, there will always be a place for Alyssa Milano. We grew up with her on Who's the Boss?, though she turned out hotter than most of us, and became adults along with her on Charmed. Now she's back with another sitcom, though I can't believe she's Romantically Challenged.
Premiering on Monday, April 12 at 9:30 PM ET, as reported by Zap2It, Milano has received the very cushy post-Dancing with the Stars timeslot, affording the new series the largest potential audience ABC has. The series has Milano as a lawyer re-entering the dating scene after 15 years of marriage.
She's joined by Kyle Bornheimer, who was the funniest thing about CBS's Worst Week, Josh Lawson and Kelly Stables. If this on works out, ABC might not even have to hope for a great entry in the upcoming pilot season to flesh out their ABC Comedy Wednesday lineup. It already bears some resemblance to Cougar Town simply by having a woman back on the prowl after years of marriage.
Your Daily Blend of Entertainment News
Your Daily Blend of Entertainment News
Thank you for signing up to CinemaBlend. You will receive a verification email shortly.
There was a problem. Please refresh the page and try again.