America's Dad: Memories Of Tom Bosley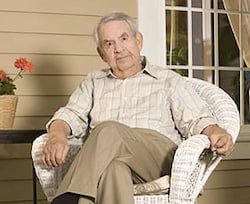 As TV fathers go, Tom Bosley wasn't as understanding as Cliff Huxtable or as fun as Homer Simpson, but maybe that's what made him so endearing to not only an entire generation who watched Happy Days in the late 1970s but also my generation, the early twenty-somethings who flipped on Nick at Nite during the late 1990s to rediscover a beloved classic. Part Red Foreman, part Mike Brady, Tom Bosley's Howard Cunningham was a mix of forgiving compliments and disapproving headshakes. He wasn't brash or even fun, but he was there, imparting basic advice to his children and opening his home (and upstairs garage) to a good-hearted loner who needed a family. In a lot of ways, the Cunningham's were a snapshot of the idealized 1950s. They were warm, hard-working and always up to an acceptable amount of nonsense. In retrospect, we all remember Fonzie's iconic leather jacket and fast-talking swagger, but it was Tom Bosley's Howard Cunningham that truly gave Happy Days its mass appeal and moral balance. He succumbed to lung cancer this morning at the age of eighty-three.
In the next few days, dozens of obituaries will no doubt appear largely resembling the paragraph above. Tom Bosley was and will forever be known for his turn as Howard Cunningham on Happy Days, but to only glorify his work on one television show, memorable as it may have been, would be to ignore what a brilliant and diverse actor he really was. With dozens of recurring roles on everything from Love, American Style to The Love Boat, Tom Bosley was one his generation's surest bets, a respectable actor who showed up on time, knew his lines and always brought a level of humanity to any character he was playing, whether it be a one-off side character or the lead in Broadway's Pulitzer Prize-winning Fiorello!. I wish I could say I saw the latter in person, by all reports, Tom Bosley was phenomenal in it, but if I had, there's no way he would have made me late for Kindergarten a possibly record-setting thirty-six times.
When I was six years old, I was late to Kindergarten thirty-six times. Finally, the school got fed up with it and informed my mother. She was outraged and confronted my father and I about it. Everyday I leave the house at 8:15 and Mack's dressed and ready. We live four blocks from the school. Why don't you drop him off on time? She was looking angrily at my father. Finally, I blurted out It's not dad's fault, it's David The Gnome's! Every morning The World of David The Gnome played on Nickelodean between 8:30 and 9 o'clock. School started at 9 o'clock; so, my father told me if I had my backpack and my shoes on, I could stay until the credits rolled at 8:55. We then sped to school and I was ordered to run. I never told him about the tardies, I feared that would have put an end to watching Tom Bosley's mysterious tree-hugging gnome save the forest every morning. In retrospect, I would have done the same thing.
Surprisingly though, David The Gnome screwing up my timeliness isn't my only early Tom Bosley memory. When I was seven years old, before Nickelodeon taught me about Happy Days, my grandmother and I watched Murder: She Wrote like it was our jobs. As Amos Tupper, Tom Bosley appeared in nineteen episodes of the Angela Lansbury vehicle, just enough for me to be pleasantly excited every time his down home sheriff popped up to solve Cabot Cove's weekly murder. At the time, I didn't know he was played by the same guy who voiced David The Gnome, but when I found out like a decade later, my mind was blown. Throw in Happy Days and Tom Bosley somehow factored in to three of my ten favorite childhood television programs. Had I ever met him, I definitely would have forced a high-five his way. Some guys just deserve it.
He's survived by a wife, a daughter, two step-daughters and millions of now-grown up children who knew he would have understood.
Your Daily Blend of Entertainment News
Enthusiastic about Clue, case-of-the-week mysteries, a great wrestling promo and cookies at Disney World. Less enthusiastic about the pricing structure of cable, loud noises and Tuesdays.