American Horror Story's 10 Creepiest Characters, Ranked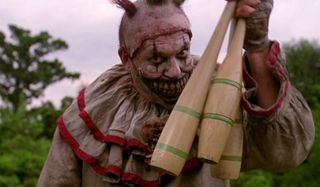 It won't be long until we're watching Lady Gaga sucking blood and taking guests' names in American Horror Story: Hotel. But while we're filing our nails with magnetic key cards and anticipating the most disturbing scene in the show's soon-to-be five-year history, we thought we'd take a look back at everything that made the past four seasons so disturbing in the first place. I mean, beyond Dylan McDermott's soulless performances.
Here are the 10 creepiest characters that Ryan Murphy and Brad Falchuk have unleashed upon audiences. Thankfully, the nature of this show means that this list is populated with supernatural creatures, all-too-human monsters, and some generally demented beings. Turn out the lights, pull down the skin-made shades and read on.
10. Madame LaLaurie – Coven
Right off the bat, we've got a character who deals in creepiness on two levels. First, she's a racist murderer of slaves who thinks that blood helps her keep her youth, and she was based on an actual person who hid her evil deeds from her socialite friends in the 1830s. On a less realistic front, she'sa temporary immortal (racist) and eventually brings her backwards thinking ways to the modern day. And at one point she exists solely as a decapitated head.
9. Dandy Mott – Freak Show
Even if the show didn't end up revealing him to be Twisty the Clown's deadly protégé with an already explored bloodlust inside of him, Dandy Mott still wouldn't be someone that you'd want to get into a conversation with in a crashing airplane. He is the product of inbreeding between his mother and his second cousin, and it apparently went a long way in informing his uncomfortable relationship with said mother (played by Frances Conroy), which involved him killing her, bathing in her blood, and using her corpse as the body of a puppet. That's not to mention his all-around wealth-driven standoffishness, which is more douchey than creepy.
8. Papa Legba – Coven
Lance Riddick's Papa Legba is one of my favorite characters that this show has ever delivered, as he's a bizarre soul-collecting amalgamation of New Orleans voodoo and Haitian folklore. He's a dastardly bastard whose wild accent and manner of speaking makes him appear mildly friendly, but he makes it clear he has zero problems with taking a newborn baby as his subjects' payment, and he can also put people into very personal forms of hell that prey on their discomfort. (I mean, it is Hell, after all.) Fictional devils are never nice guys, but Papa Legba is next-level harsh.
7. Kyle (and his Mom) – Coven
Here's another character whose creep factor upped in not just one way, but several. First, his home life was positively awful, as he was the victim of years of sexual abuse by his mother. He still managed to turn into one of the nicest frat boys in fiction, at least until he gets killed on a bus ride. Then he's put back together Frankenstein's monster-style with other victims from the bus crash and becomes a confused and mumbling shell of his former self. But he's still capable of performing sexual threesomes, so long as his mum isn't involved.
6. Stanley the Chicken – Freak Show
Sometimes it takes an entire season for an American Horror Story character to truly earn their place in my nightmares, and sometimes it takes just a single scene. That's how it happened with Freak Show's conniving shyster Stanley, whose punishment for his lies and murders is being mutilated and turned into a new version of the chicken head-eating geek Meep. The shot of him in his cage, seen above, fucking destroyed me when the episode aired, and there are basically zero ways in which it'll ever be wiped out of my mind, no matter how many other men I see turned into chickens over the rest of my life.
5. Mutant Shelley – Asylum
Here's another character whose motivations and personality have far less to do with how frightening they are than their gobbledy gook appearance. In Asylum, Shelley is a nymphomaniac whose fate is sealed when she makes fun of her rapist's penis. She is then experimented on and turned into an amputee mutant who is temporarily released into the world and scares the shit out of a bunch of kids. That scene of her crawling up the stairs is…just…(jumps out of a window)
4. Rubber Man – Murder House
Rubber Man is the random absurdity that started it all for American Horror Story, and even though the character's story and reveal took away some of the initial fright that the early part of the season utilized, this was still one of the creepiest things on TV when the show was airing. (Also see: Ryan Murphy's Carver from Nip/Tuck.) Despite being a ghost, he's capable not only of raping people, but also of having sperm that can impregnate a person at the same time as another man's sperm. That's the kind of creep factor that you don't get from just a costume.
3. Twisty the Clown – Freak Show
Ryan Murphy likes to brag on his creations, and when he said that Freak Show's Twisty the Clown would be the scariest clown ever, it was a claim that was met with more derision than fear. Still, even though he only lasted a short time, Twisty was a psyche-damaging force to be reckoned with, as his childlike state of mind was balanced by an unnerving sensation to kill whatever isn't impressed with his act. He's no Pennywise, obviously, but John Carroll Lynch's selfless performance did the trick, and his missing jaw was a high mark for this show's effects team.
2. Dr. Arthur Arden – Asylum
If you're in a place where there's a moral-touting Nazi mad scientist as one of the head employers, you're going to see some awful things happen. In that sense, James Cromwell's Dr. Arden is less creepy than hideously fucking evil, but his bedside manner included come-on lines like "Show me your mossy bank," and it doesn't get creepier than that. He was an emotional mess who mentally got off performing experiments on patients and turning them into mutants, and he ended his own life by burning alive with the corpse of nun-turned-devil Sister Mary Eunice. I had to wash the inside of my eye sockets out after seeing that self-immolation.
1. Infantata – Murder House
Another example of American Horror Story proving that less can be so much more, Thaddeus Montgomery has what is arguably the most bonkers and horrifying origin story of anyone in the show. As a baby, he is kidnapped Charles Lindbergh-style and later returned to his parents dead and dismembered. But that doesn't stop his father from putting him back together and bringing him back to life, turning him into the Infantata, a shadow-dwelling murderer who apparently can't die and just keeps getting older and uglier. The Infantata is the kind of character that makes me afraid to explore basements of homes casually referred to as Murder House, and his appearance still haunts me to this day, which is a testament to the late Ben Woolf.
Don't forget to tune in when American Horror Story: Hotel makes its premiere on FX on Wednesday, October 7. In the meantime, head over to the next two pages to see some of the ones that just missed out on making the list and then tell us what your favorite creepy character was HONORABLE MENTIONS
Bloody Face – Asylum
Dr. Charles Montgomery – Murder House
Lizard Girl – Freak Show
The Minotaur – Coven
The Twins – Murder House
Head over to the poll and give us your thoughts.
This poll is no longer available.
Your Daily Blend of Entertainment News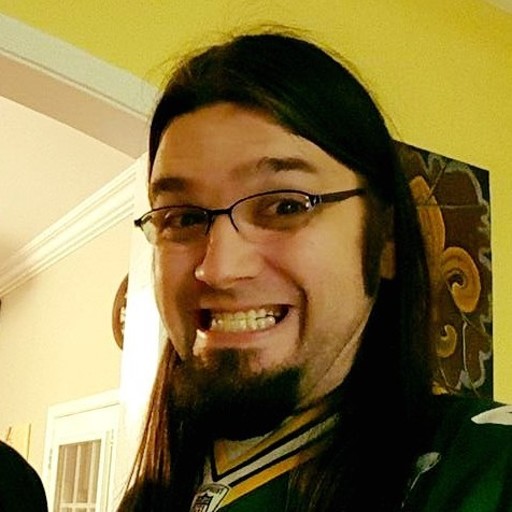 Assistant Managing Editor
Nick is a Cajun Country native, and is often asked why he doesn't sound like that's the case. His love for his wife and daughters is almost equaled by his love of gasp-for-breath laughter and gasp-for-breath horror. A lifetime spent in the vicinity of a television screen led to his current dream job, as well as his knowledge of too many TV themes and ad jingles.