American Horror Story Continues Creepy Promos Plus A Horror House Call Campaign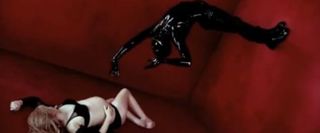 It was only five or six days ago that my interest in Ryan Murphy and Brad Falchuk's American Horror Story was, well, what's less than zero? Then everything changed in a matter of seconds. Literally, all it took was the first three promos for the show to completely alter my perception and anticipation for the upcoming FX horror series. I still don't know what to expect, but now I find that mystery intriguing and not just inconsequential.
Don't get me wrong, I have (had) a lot of respect for Glee when it first hit the airwaves. I mean, bringing a musical to primetime, network television was a gutsy move and it totally paid off. For me, though, it only really worked for about half of the first season, not disproving the viability of musicals on TV, just proving that you have to maintain a level of quality to maintain interest -- my interest, especially -- and Glee falls far short of that. So we're back at AHS and why all of a sudden this one is at the top of my must-see list this fall.
The cast is decent enough (including Dylan McDermott, Connie Britton, Jessica Lange, Frances Conroy, and Alexandra Breckenridge) but, like I said above, it was the first rash of promos that grabbed and piqued my interest. I posted the first three (opens in new tab) the other day, and they are wonderfully ambiguous, eerie, and unsettling. No cheap scares, no clichés, just abstract footage mixed with a cover of "Tainted Love." They are supposed to function as clues but all I can make of it is...uh, this shit is weird. To be fair, I think they're hinting at past affairs, possibly illegitimate (dead) children, and a lot of death.
Before briefly discussing the new viral campaign, let's get to the fifth video, "Lying Down," which introduces us to another one of the show's characters. A character I can only describe as the gimp...and if you want the gimp or other odd characters from the show to come to your house for a haunting, well, that's entirely possibly with the American Horror Story "Horror House Calls." Not sure what that means? Take a look...
American Horror Story on FX -- Clue #5: Lying Down
American Horror Story on FX -- Horror House Call
American Horror Story on FX -- Horror House Call #1
American Horror Story premieres October 5th on FX. It stars Dylan McDermott, Connie Britton, and Jessica Lange.
Your Daily Blend of Entertainment News
Thank you for signing up to CinemaBlend. You will receive a verification email shortly.
There was a problem. Please refresh the page and try again.