American Idol: Jordin Sparks Signs Record Deal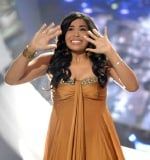 In a season where the true talents of the top 10 seemed to live in the shadow of Sanjaya's pony hawk, it's a little hard to remember that we actually crowned an American Idol at all this year. Today, 17-year-old Jordin Sparks set out to remind us all that this really is her now.
Billboard.com, reports that Sparks has signed to Jive Records, a label that celebrated massive success with teen pop sensations such as 'NSYNC, Backstreet Boys and Britney Spears in the late 1990s. Sparks will release her first single, "Tattoo" on August 27. The Idol winner collaborated on "Tattoo" with Amanda Ghost, the songwriter behind James Blunt's much-maligned smash hit "You're Beautiful", as well as the Beyonce/Shakira duet "Beautiful Liar".
Although even the most ardent fans of Idol would have to agree that the reality phenomenon began to feel a bit tired this past season, I don't think America's weariness of the show will necessarily hurt Jordin's career. In the very least, Jordin's squeaky clean/spunky teen image will appeal to the massive tween audience who spent their allowance on the High School Musical soundtrack. And with Ghost's help, chances are she'll come up with catchy tunes much more likely to get permanently lodged in all of our heads than that cheese-fest of a ballad she was forced to sing in the Idol finale.
When the talent-show crowned Kelly Clarkson its first winner in the summer of 2002, critics wondered whether the fans who had dialed in to vote for her all summer would still care enough to buy her album when it debuted that fall. After the backlash of season six, the question now seems to be whether or not the show will be outlived by the stars- Clarkson, Clay Aiken, Carrie Underwood, Chris Daughtry, and hopefully Jordin Sparks- it created.
Your Daily Blend of Entertainment News
Thank you for signing up to CinemaBlend. You will receive a verification email shortly.
There was a problem. Please refresh the page and try again.