An Agents Of S.H.I.E.L.D. Character Is About To Die, Here's What We Know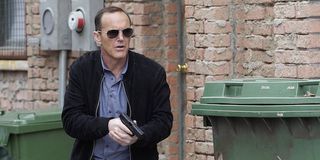 Being a spy is dangerous, so the odds of living a long life go down when you're out in the field shooting bad guys. Agents of S.H.I.E.L.D. has been no exception, as several key good guys have gone down in battle over the last two and a half seasons. The majority of these folks have been recurring or guest characters, but now it sounds like an especially big death is coming in the near future.
Series lead Clark Gregg, a.k.a. Phil Couslon, stopped by Jimmy Kimmel Live! on Tuesday, and while talking about how shows like Game of Thrones are killing major characters left and right, and when the host asked when that last happened on Agents of S.H.I.E.L.D., the actor revealed it was actually not that long ago. He said:
Since shooting hasn't begun on Season 4 yet, we know for sure the death Clark Gregg is alluding to will happen during Season 3. This season has been primarily focused on the team battling the remnants of HYDRA, which Hive is now controlling after thousands of years of exile away from Earth. Along with Gideon Malick's resources and more Inhumans being captured/recruited to their cause, the S.H.I.E.L.D. agents are facing their toughest opponents yet, so to hear a key character will die soon isn't too surprising.
Our only hint so far towards a major death for one of the protagonists came from a glimpse of what's coming on Agents of S.H.I.E.L.D. During "Bouncing Back" (a.k.a. the midseason return), there was a flash forward of a space ship above Earth that was about to explode, and before the big boom, viewers saw someone with a S.H.I.E.L.D. logo patch on their arm inside of it. The same vision returned in "Spacetime" when Daisy Johnson touched the Inhuman Charles Hinton and saw that same vision of the future. Needless to say, this vision left her flustered in "Paradise Lost," but no other clues have been provided as to who kicks the bucket.
Assuming the death Clark Gregg mentioned is connected to this flash forward, the best guess would be Daisy since Charles' visions of death usually meant that the person seeing them would be in close proximity to the event. Daisy, or Skye, as she was once known, has been an important player on Agents of S.H.I.E.L.D. since the beginning, so her demise would definitely shock the viewers. That said, it's her importance that also potentially rules her out, especially since she's based off a preexisting character in the comics. Other options could be one of the Secret Warriors or a non-powered character like Mack, but with six episodes left until Season 3 concludes, we won't have to wait long to find out who it is.
If you'd like to see what else Clark Gregg has to say, check out the footage, below.
New episodes of Agents of S.H.I.E.L.D. air Tuesdays at 9 p.m. EST on ABC.
Connoisseur of Marvel, DC, Star Wars, John Wick, MonsterVerse and Doctor Who lore. He's aware he looks like Harry Potter and Clark Kent.
Your Daily Blend of Entertainment News
Thank you for signing up to CinemaBlend. You will receive a verification email shortly.
There was a problem. Please refresh the page and try again.