Anderson Cooper's Daytime Talk Show Won't Return For Season 3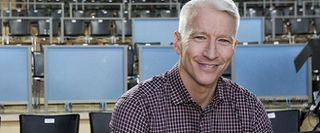 The daytime talk show market is a tough one, and Anderson Cooper gave it a good shot. In spite of the changes made to the show this season in an attempt to boost interest, Anderson will not be coming back for a third season. The news isn't exactly surprising; with so many new talk shows attempting to fill the Oprah void, Anderson launched at a tough time.
Hot on the heels of the news earlier today that Queen Latifah will start up her new talk show on CBS next fall comes the word that Anderson Cooper won't be among her competition. EW says producers have decided not to seek a renewal for Season 3. Anderson sought to raise the ratings after a its first season by changing to a live format and updating the set. It wasn't enough to keep the show alive, however. In my opinion, Anderson Cooper was a bit of a long shot for a daytime talk show to begin with; to me he never did seem like the daytime host type.
After Oprah's 25 year run as the undisputed queen of daytime television ended, the networks all scrambled to find someone to replace her. Katie Couric and Jeff Probst both launched talk shows, as well as Bethenny Frankel, who in spite of a rough start managed to earn herself a spot in the Fox daytime lineup for next fall. And Ricki Lake returned to the format as well this fall, albeit with a slightly different angle than the show that made her a household name. It's become a crowded market, and it seems there's no room for Anderson. But don't worry fans, you can still see him on Anderson Cooper 360 and in his other various CNN roles.
Your Daily Blend of Entertainment News
Thank you for signing up to CinemaBlend. You will receive a verification email shortly.
There was a problem. Please refresh the page and try again.