CBS Nabs The Queen Latifah Show For 2013 Launch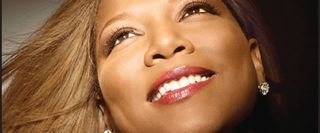 Queen Latifah has found her new daytime home. CBS has landed The Queen Latifah Show, a syndicated daily talk show that garnered plenty of interest among the networks. The show is being executive produced by Latifah along with power couple Will and Jada Pinkett-Smith and will offer more than just sit-down chats. It's said to feature all of Latifah's many talents and will blend comedy and music into the talk show format.
It's been almost a year to the day since we brought you the news that Latifah was putting a talk show together. Today Deadline brought word that although things came close with NBC, Queen Latifah will be spending her days chatting it up on CBS. The Queen Latifah Show will feature the usual celebrity interviews and pop culture news, along with human interest stories and musical performances. The CBS deal is a big one; the network will be airing Latifah's show across the board on all 16 CBS owned and operated stations.
This could fill a void in CBS' daytime syndicated lineup. They've got longtime hit Judge Judy as well as Dr. Phil and Rachael Ray, but Latifah brings a very different type of show to the network. The blend of celebrity interviews and musical performances is something CBS doesn't currently have, and Latifah herself carries an element of cool few other talk show hosts can claim.
Set for a 2013 launch, The Queen Latifah Show will likely be the big news in daytime television next season. Bethenny Frankel's talker Bethenny did manage to earn itself a spot in the Fox lineup after a successful summer trial run, but it will hardly enter the market with the same sort of splash. Incidentally, Queen Latifah is actually making her second run at a talk show. She ran two seasons with the very same title in syndication from 1999-2001. She's come a long way since then, is more mature and has an Oscar nomination under her belt. This time it just might work.
Your Daily Blend of Entertainment News
Thank you for signing up to CinemaBlend. You will receive a verification email shortly.
There was a problem. Please refresh the page and try again.