Annabella Sciorra To Guest Star On The Good Wife In Season 4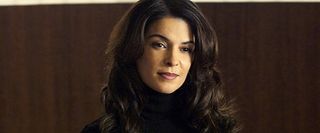 Add another familiar face to The Good Wife's list of guest stars for the upcoming season. This time it's Annabella Sciorra, who will get some screen time with fellow Sopranos alum Juliana Marguiles. Both women played mistresses of Tony Soprano on the HBO mob hit at one point, although they weren't on the show at the same time.
Sciorra comes on board The Good Wife to play a gangland lawyer who is both tough and smart as well as, of course, beautiful. She's described as a doppelganger to Marguiles' character Alicia, according to TVLine. There's no word yet on whether her guest role is a one-episode shot or whether we'll see her on for an arc that lasts more than an episode. Sciorra is in good company on The Good Wife's fourth season. Among the other guest stars already tapped for roles are Maura Tierney, Amanda Peet, Nathan Lane, Kristin Chenowith and Marc Warren. It's shaping up to be a fascinating and quite star-studded season, and I suspect we'll hear about more new faces to be added yet before things get rolling.
Although it will not be a true reunion for Sciorra and Marguiles since they weren't on The Sopranos at the same time, it will be a reunion with Law & Order: Criminal Intent co-star Chris Noth, who has been with the series since it premiered in 2009. Sciorra should feel right at home. The Good Wife is set to premiere for Season 4 on September 30th on CBS.
Your Daily Blend of Entertainment News