Army Wives' Catherine Bell To Appear On TNT's King & Maxwell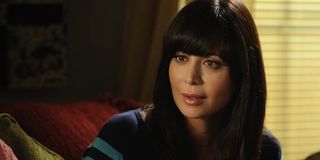 Among TNT's upcoming summer series is a new drama starring Jon Tenney and Rebecca Romijn. The two will play the title characters in King & Maxwell, which features characters from bestselling author David Baldacci and follows a duo of private investigators who were once Secret Service agents. Army Wives' Catherine Bell is set to guest star in the series' first season in multiple episodes.
The drama stars Romijn as Michelle Maxwell, a former Olympic athlete whose brains, beauty and connections go a long way in solving cases. Tenney plays Sean King, a former secret service agent who left that job after a candidate he was assigned to protect was assassinated. Armed with a law degree and a lot of skills, he has a different grasp on the private eye business than others. Teamed together, the two sound like a force to be reckoned with.
EW says Bell will play King's former lover, Joan Dillinger. But there's no mention of how she'll fit into the story beyond that, though executive producer Shane Brennan describes her as "formidable." Her presence could certainly make for some interesting tension on the series, which already sounds like it has a lot of potential to be another great summer drama for TNT.
In addition to playing the role of Denise Sherwood on Lifetime's Army Wives, Bell's credits include a regular gig on Jag as Sarah "Mac" MacKenzie on the long-running drama. When she's not starring in Army Wives, she's also starring in a number of The Good Witch TV movies for Hallmark.
King & Maxwell will premiere on TNT on Monday, June 10 at 10:00 p.m. ET.